Featured Image – by freepik
As a coach and long-time player, I see plenty of other players throwing their rackets in their bags at the end of a practice session, without any care or consideration. If you're also guilty of this, it's important to know that you're definitely reducing the useful life of your rubbers.
Rubbers are expensive these days, right? A single sheet of Tenergy can cost upwards of $80, so it's definitely worth looking after your rubbers to keep them in top condition.
That's why I always recommend players invest in a Table Tennis bat case to store their paddle in between sessions. They come in many different shapes, sizes and styles but here I want to recommend my favourite cases and why I'm a fan of each one.
They'll all do a great job, so choose your style and start protecting your Ping Pong bat properly.
Image
Product
Features
Price

Best Overall

Super protective of your racket
Different colors to match your style
Stores 2 - 4 paddles
Extra large front pocket

Check Local Seller PriceCheck Amazon Price

Best Styling

Super stylish design.
Storage for up to 2 rackets.
Rectangular shape protects edges.

Check Amazon Price

Best Value

Slimline design.
Easy carrying handle.
Internal straps keep paddles in place.

Check Local Seller PriceCheck Amazon Price

Huge pocket can hold an 8" tablet.
Fits up to 4 paddles.
Separate ball pocket.

Check Local Seller Price

Fits a massive 18 balls.
Hard case provides extreme protection.
Fits up to 2 paddles.

Check Local Seller PriceCheck Amazon Price

Cheapest case with decent quality.
Carries a single racket.
Pocket for up to 3 balls.

Check Amazon Price
In-Depth Ping Pong Racket Case Reviews
I've been playing Table Tennis since I was 12 years old, so I've been through my fair share of ping pong rackets costing thousands of dollars. I hate the thought of leaving any of them to get scratched or banged up in my gym bag, so I've always used a racket case. I personally look for a rectangular case with an additional pocket for storing my racket cleaner, scorecards and a few balls.
These 6 paddle cases are my favourite options for different scenarios and you can't go too far wrong with any of them.
David's Top Pick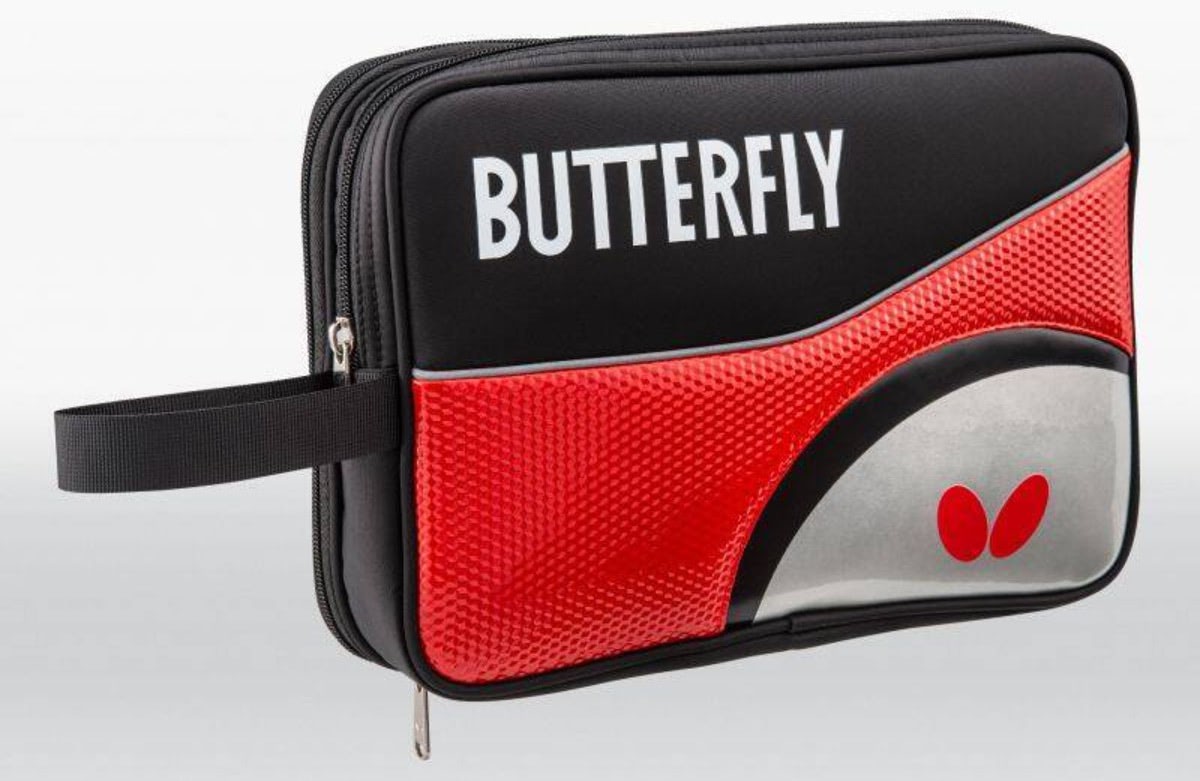 Material: Polyester
Paddle Storage: Up to 2
Size: 21 x 30 x 7 cm
Colors: Black, Pink, Red, Blue
Summary: This case makes my top pick because it's a fantastic all-rounder. The rectangular shape provides great protection and the large pocket allows you to carry more than just 2 paddles around. Perfect for any club player.
Keep your racquets safe and cozy with this stylish and colourful ping pong bat case. The Lojal DX has been around for years and is very popular with Table Tennis players around the world. In fact, it's the case I've been using to protect my bat for the last 10 years.
Within the case is plenty of space for two bats but also other accessories as well. There are four cutouts specifically made for balls and three mesh pockets. You can use these pockets to store cleaner or extra rubber sheets, or anything else you need to bring to your matches
You also receive a hard plastic insert that prevents any bending of your rackets, especially when it's shoved into a bag with everything else you need for a tournament.
Quality Materials Used
It's made from thick polyester to absorb any drops and to keep up to two bats far away from knicks and scratches. This material is durable and holds up very well over time.
The zipper is strong and will keep your bats and all your accessories safely enclosed. With the carrying handle, you can carry it on its own or it fits nicely into any backpack or sports bag you might want to use.
More Than Just A Carrying Case
The case is available in four different colors so that you can match it to your style and team colours.
A massive advantage to this case is the rectangular shape. This allows for plenty of space within the case, so your bats are not only protected from the outside elements but also from rubbing against each other.
If you regularly carry more than one paddle, then this is definitely the best case for you.
Benefits
Padding on front and back
Durable zipper
Custom cutouts for four balls
Available in different colors
Rectangular shape protects your bats from rubbing against each other
Three mesh pockets on this inside
Drawbacks
Extra padding makes it a little bulky if you only carry a single racket.
Most Stylish
Material: Fabric & Leather Trim
Paddle Storage: 1 or 2 (Single or Double)
Size: 20 x 30 x 4 cm
Colors: Black, Grey
Summary: I'm a big fan of the Eastfield brand, and especially this case that looks like a stylish tablet case. It stands out as the perfect option for anyone who's looking to be a bit more fashion-conscious.
Not all ping pong bat cases are created equal, and if you're looking for something a bit different that will stand out in a crowd, then the Eastfield Original could be your best bet.
Its simple design and styling are exquisite without being too flashy. It has a very professional look to it that will suit even the most distinguished tastes.
Its Appearance Isn't The Only Thing That's Great About It
The materials used are of the highest quality. This case is built to last and also to protect your ping pong bats for years to come. If you opt for the Double case, there are two separate compartments on the inside to house two bats so you can keep a backup safe and secure.
Its rectangular shape is excellent for keeping your bats from rubbing up against each other. Rubbing can cause undue wear and tear on the paddle face and grip. You can position your bats to be separated and fully protected from themselves and any outside threats with a rectangular shape.
Made With Care And Expertise
Part of looking good is also being able to perform as well. The zipper on this case is heavy-duty. It's made to glide easily and not snag at all. There is also protection on the inside to keep the zipper from rubbing against your bats.
Eastfield is run by the experienced Ben Larcombe, who has a great Table Tennis background so you know the case has been built with the Ping Pong player in mind.
Ultimately, a fashionable choice that's also made for the serious ping pong player.
Benefits
Excellent design and fashion sense
Plush inner material to keep your bats safe
Heavy-duty zipper
Able to store up to 2 bats
Rectangular shape helps your bats stay safe
Drawbacks
Only available in grey and black.
Not good for tacky (sticky) rubbers.
No carrying handle.
Incredible Value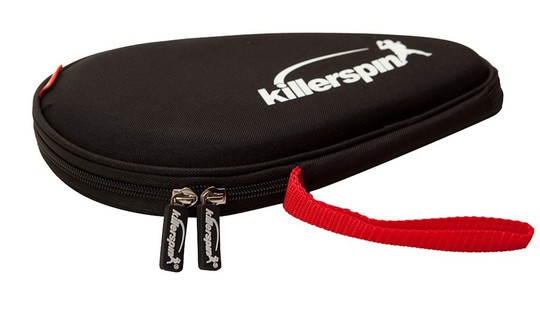 Material: Semi Rigid Polyester
Paddle Storage: Up to 2
Size: 17.8 x 27.9 x 5.1 cm
Colors: Black
Summary: If you're looking for something a little smaller than a rectangular case, this Killerspin 'paddle bag' is by far the best value option. The semi-rigid outer case ensures strong protection whilst still leaving enough room for 2 rackets. I'm a big fan of the Killerspin styling too.
This case is an excellent option for those that don't travel a lot with their paddles. It's still durable and will keep your racquets safe but for a very affordable price. Sometimes you just need a place to store your bats when you're not using them, and this could be the perfect bag for you.
An Affordable Hard Case
It's made from a semi-rigid polyester which provides excellent protection against any sharp objects. The hard skeleton of the case is wrapped in a soft exterior both inside and out, providing two layers of protection.
The bag itself is shaped in a slight triangle to fit one or two paddles conveniently. There are extra straps on the inside to keep your paddles in place during transport, although you should be careful not to drag your rubbers across these straps when storing them away.
The straps are essential for this case as they prevent your bats from rubbing up against each other. The rubber on your paddles can become worn or even stripped off if your racquets have too much friction with each other.
Professionally Styled And Designed To Look Good
The outside of the bag is tastefully embroidered with the Killerspin logo, so your playing competitors will know you mean business. Killerspin is a leader in the table tennis world, so anything with their name on it means you can be sure it's made with care.
A bright red carrying strap completes the look and gives it a bit of flare.
The zipper is also made to withstand many years of use. It's oversized to keep it from getting snagged on any fabric, and the large tangs make it easy to open and close.
While other bags may have more features, this one has everything you need to keep your bats safe and sound.
Benefits
Semi-rigid polyester construction
Dual internal straps to keep your bats in place
Strong and large zipper
Adorned with the Killerspin logo
Bright red carrying strap
Drawbacks
No extra pockets or ball storage.
May not last if treated roughly.
Straps aren't my favourite method of keeping paddles from moving around.
This case is for the player with all the accessories. It provides an impressive amount of extra space to carry everything you need.
The Interior Keeps Your Paddle In One Place
The main pocket securely keeps your paddle in place with an elastic strap. This will keep it from jostling around while in transit. There is also a small zipper pocket on the inside to keep a couple of balls handy.
Also, on the inside is a large pocket that can be used for extra rubber sheets or a notebook. It's also big enough to store a small tablet. This can be very useful for the avid player as you can record your games or practice sessions while still keeping your tablet safe.
Launch Your Ping Pong Empire From Anywhere With This Case
Having a tablet pocket is becoming more popular as players look to technology to improve their games. You can record your sessions and easily upload them to your social media channels if you are an excellent player.
Having a great-looking case is also essential, and this one fits that criteria perfectly. The grey color is accented by yellow piping, which gives it a stylish but professional look.
There's a strap on the backside that makes carrying this case very easy. It has a small logo in the corner that lets people know you have a quality case and are dedicated to taking care of your equipment.
Benefits
Internal strap to secure your paddle
Separate ball pocket
Large pocket for a small tablet
Cool design and logo
Stores 2 paddles comfortably but can fit up to 4 paddles
Drawbacks
Soft exterior that provides limited protection.
Elasticated strap to keep your racket in place can pull on your rubber.
This hard case will not only keep your ping pong paddles safe but also has room for 18 balls. Yes, you read that right. There are 18 cutouts on the interior to keep up to 18 balls safe and secure.
The case comes with 18 balls included as well, although these aren't the highest quality. They're great for training but I wouldn't recommend using them for matches.
The Exterior Shell Keeps Your Racquets And Balls Secure
While having this feature is great, it's not the only thing this case offers. This is one of the most durable cases you can get. The hard outer shell will protect against any bumps and scrapes, giving you the highest protection possible for your racket.
The heavy-duty and durable clips keep your case closed tight so none of those balls will get away from you. The balls are also held in place by the custom cutouts explicitly made to handle ping pong balls.
Hard Exterior But A Soft And Protective Interior
The custom foam continues on the racquet side of the case as well. The paddle cutout is made specifically to fit up to 2 paddles. This foam is soft and deep, so your paddles stay secure and won't bounce around during transport.
Although this case may seem simple, its durability is second to none, and if you need to transport ping pong balls for a whole team, this could be the best case for you.
Benefits
Custom foam to store up to 18 balls
Hardshell exterior
Custom cutout for up to 2 racquets
Heavy-duty clasps
Comfortable handle for easy carrying
Drawbacks
No extra pockets.
Balls can press against the racket.
If you don't want to splash out on any of the cases I've already recommended, check out the Duplex Paddle Case which provides stylish protection to keep your paddle from getting damaged. It's designed with a cool retro look that harkens back to the early days of ping pong.
Protects Against Dings And Knicks
It's a softshell case which means it protects against scratches and rubbing so your paddle can keep its structure. Since the rubber is the most critical part to protect, this case will do a good job protecting your racket.
The zipper is high-quality, so you don't have to worry about it snagging on the material. It goes almost all the way around the case to make it easy to get your racquet in and out. There is also an exterior pocket that fits three balls perfectly.
Take Your Racquet Anywhere Or Nowhere
Easily transport your racquet and balls with the handy wrist strap. This allows you to keep your case close at hand and prevents drops.
This is a simple but effective case, and even if you are not a serious player, getting some kind of case is still recommended.
Benefits
Retro design
Exterior pocket for balls
Comfortable wrist strap
Zipper that goes all the way around
Soft interior
Drawbacks
Only fits one racquet.
Shape doesn't protect the edges of your racket.
Limited build quality.
Buyer's Guide
Why Get A Case For Your Ping Pong Paddle?
Unlike other sports where you have multiple pieces of equipment, ping pong only requires one thing, a great paddle. If you have a paddle that you like and have become attached to it, then you will want to do everything you can to keep it safe and prolong its life for as long as possible.
A Ping Pong paddle case will do that for you. It will protect the rubber on both sides of your paddle so you can always get the best performance possible. A good case will ultimately save you money in the long run as you'll need to replace your racket less often.
Case Sizes
Cases come in many different sizes designed to suit different needs. For the best protection and the most storage, look for a rectangular case. This shape allows for ample space for your ping pong bats and also a few accessories.
Rectangular cases often also have room for extra balls so you can travel with them without the risk of them getting crushed or dented.
If you're looking for something a little more compact, then a triangular case will do the job, although there isn't quite as much protection. Triangular cases usually only fit one or two racquets and provide protection against any sharp objects. They have adequate padding, but you should still refrain from dropping it just in case.
Case Strength And Durability
There are two types of case strengths you can choose from. There are hard cases and soft cases.
Hard cases – provide maximum protection and are great if you plan on travelling a lot with your ping pong bat.
A hard case will protect against anything you throw at it. Drops are no problem, and sharp objects won't be able to penetrate the hard exterior. A hard case is usually bigger, bulkier and may take up more space if you plan on fitting it into a suitcase.
Soft cases – still provide a lot of protection and will keep your paddle safe from any scratches or knicks. These are perfect if you're looking for an excellent place to store your paddle when not in use.
Soft cases can still accommodate up to 2 racquets, but not all of them. If you're looking for a soft case with room for two racquets, then follow my recommendations above.
Additional Space For More Than Just Paddles
Lots of cases provide extra room for your accessories. Whether for balls, spare rubber sheets, scorecards or racket cleaner, these cases have the space to carry anything extra you may need.
Many cases provide extra space for balls, clearly an essential piece of equipment when playing table tennis. Ping pong balls can be pretty fragile, and maintaining their shape is important for a predictable bounce.
Some cases have extra pockets to carry whatever you may need, so make sure you check out these features before deciding on a case.
Conclusion
Choosing the proper case will depend on what you are going to use it for. If you are travelling around and need maximum protection with multiple compartments, we highly recommend the Butterfly Lojal DX. This case provides maximum protection while also providing storage for balls and other accessories.
If you know what kind of racket case you want, choosing the right color/design will be essential and usually the most fun. Take care of your ping pong paddle in style and save your money on costly repairs.
David's been playing Table Tennis since he was 12, earning his first coaching license in 2012. He's played in national team & individual competitions, although he prefers the more relaxed nature of a local league match! After earning his umpiring qualification in England, David moved to Australia and started Racket Insight to share information about the sport he loves.
Blade: Stiga WRB Offensive Classic | Forehand: Calibra LT | Backhand: Xiom Musa
Playstyle: All-Round Attacker