The official size of a Ping Pong table should be 9 feet in length, 5 feet in width and 2.5 feet in height. In alternative measurements, this is (length x width x height):
108″ x 60″ x 30″ inches
2.74m x 1.525m x 0.76m.
274cm x 152.5cm x 76cm.
However, as always things aren't always as simple as they seem. A regulation Ping Pong table must adhere to certain standards and materials, which may impact your purchasing decisions. There's also the option to purchase a smaller table if you need more space, with 3/4 and 1/2 size tables available.
If you're thinking of buying a Table Tennis table, then it's definitely worth checking out our guide to the room size needed for a Table Tennis table.
Let's dive into the detailed world of Ping Pong table dimensions and sizing.
Dimensions of a Table Tennis table
If you're training to improve your Table Tennis ability, or you're wanting to play competitions, then you'll need to be training on a regulation sized table. In this sport, small margins can make a massive difference and therefore it's important to have a good feel for how big the table is. Experienced players will immediately be able to tell if a table is slightly too small or large.
The incredibly useful ITTF Handbook details the dimensions of a standard Table Tennis table.
The upper surface of the table, known as the playing surface, shall be rectangular, 2.74m long and 1.525m wide, and shall lie in a horizontal plane 76cm above the floor
How does this look in reality?
There are a few more rules that a table tennis table must also adhere to in order to be competition standard.
Yield a uniform bounce of about 23cm when a standard ball is dropped on to it from a height of 30cm. In a slightly bizarre rule, there are no requirements for the material a table must be made of. If you tried hard enough, you could make a 'technically' regulation ice table. In reality, most tables are made of wood, with the top layer between 12mm and 25mm. The thicker the table top, the more consistent the ball will behave when bouncing.
The playing surface shall be uniformly dark coloured and matt. So, I may have lied about the ice table, which would be tough to make dark coloured! Most tables are either dark blue or dark green, making it easier for players to see the white/orange balls against the table. A matt colour means that the surface needs to be 'dull' rather than 'shiny'.
A white side line, 2cm wide, along each 2.74m edge and a white end line, 2cm wide, along each 1.525m edge. The white lines on a table make it easier to see the edges of the table during fast-paced rallies where players rely on their peripheral vision. Every table available will have these outer lines. Tables will normally also have a line running lengthways down the middle to distinguish sides of the table for doubles serving.
Now you know the regulations for the size of a Ping Pong table, you could even think about making one yourself!
Different Ping Pong table sizes
A vast majority of Table Tennis tables that you can purchase online are full size tables. However, it does always pay to check the dimensions. You don't want to buy a full sized table and discover it's only 75% the actual size when it arrives!
If you're wanting to play in a smaller space at home, a reduced size Ping Pong table could be the solution for you though. Let's have a look at the 4 most common sizes available to purchase.
Full Size Ping Pong Table
A vast majority of Ping Pong tables are made to this standard/regulation size, measuring 9ft x 5ft x 2.5ft. This is the size used in all local, national and international tournaments and will be most familiar to Table Tennis players across the world.
If you have the space available, we would always recommend playing on one of these tables. Most modern tables can be lifted onto their side and stored against a wall whilst not being used, which reduces the space impact if you're playing at home. Conveniently, tables are sized just smaller than a mid-sized family sedan so they are perfect for playing in your garage in place of a car.
3/4 Size Ping Pong Table
You might be mistaken for thinking that "it's only 25% smaller" so a 3/4 size table can be a reasonable replacement for a full-sized table. Having played a lot on both 3/4 size and full sized tables, I can confidently say it makes a massive difference.
The dimensions of a 3/4 size Ping Pong table can vary, however the most common standards are (length x width x height):
205.7 cm x 114.3 cm x 76.2 cm
81″ x 45″ x 30″
6.75ft x 3.75ft x 2.5ft
Whilst this may be the same height as a full size Ping Pong table, you do lose a lot of playing area.
| Full Sized Playing Area | 3/4 Sized Playing Area |
| --- | --- |
| 4.18 square metres | 2.35 square metres |
That's a massive 44% less playing surface area than a regular full sized table. This means you have to be significantly more accurate with your shots and it becomes much more difficult to play expansive/attacking shots.
Midsize Ping Pong Table
If you live in an apartment, you may even find that a 3/4 table is too big to fit into the space you have available. That's why there's another, smaller size of table generally referred to as "midsize" tables. We've selected our favourite midsized tables for you.
These can vary in size, however most commonly measure (height x width x length):
72″ x 36″ x 30″
6ft x 3ft x 2.5ft
182.9cm x 76.2cm x 6.35cm
Again, these tables are the same height as a full sized Table Tennis table, making them more familiar to play on. They're perfect for anyone with a small living space and they can easily be set up by carrying them into place.
David's Top Pick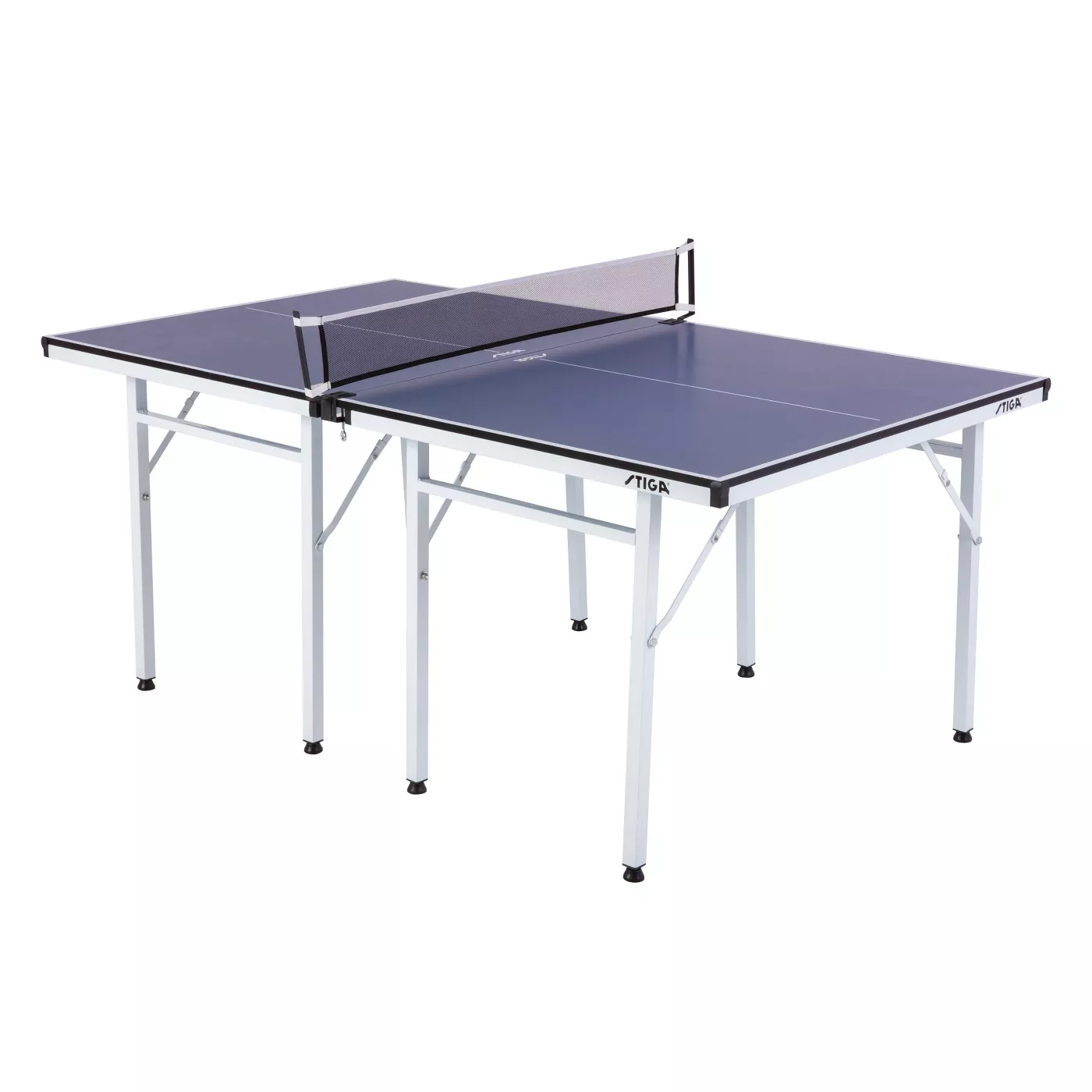 Playing Dimensions: 71 inches (L), 40.5 inches (W), 30 inches (H)
Weight: 75lbs
Material: Aluminium Frame, MDF Tabletop
Color: Dark Blue
Summary: A true all-rounder at a reasonable price, this table is perfect for practising and storing. It really feels like a slightly shrunk version of a full-size table.
Mini Ping Pong Table
Finally, we have the Mini Ping Pong table! These are no longer a real substitute for a regulation table. Instead, they're more of a novelty item that you can transport with you for a fun game.
Mini Ping Pong tables vary massively in size and design, particularly in terms of height. Some tables will have legs/stands that get them to a regular height, whilst other will need to sit on the floor or an alternative surface.
For example there's this rather cute offering from Stiga which measures just 68cm by 52.5cm and has very short legs.
Outdoor Ping Pong Tables
If you're looking at the size of a regulation Table Tennis table and thinking it's too big to put up inside your home, then you may want to consider a specially designed outdoor table that you can play with in your garden.
These tables are made from a stronger material that weatherproofs them from water, wind, heat and cold.
It can cost quite a lot to buy a quality outdoor table, but it's a purchase that will provide many years of fun for your whole family.
Featured Image – Dennis Cortés on Unsplash
David's been playing Table Tennis since he was 12, earning his first coaching license in 2012. He's played in national team & individual competitions, although he prefers the more relaxed nature of a local league match! After earning his umpiring qualification in England, David moved to Australia and started Racket Insight to share information about the sport he loves.
Blade: Stiga WRB Offensive Classic | Forehand: Calibra LT | Backhand: Xiom Musa
Playstyle: All-Round Attacker