If you've got a table tennis mad relative, partner, friend or colleague then you are in the right place!
I've been playing and coaching table tennis for nearly 20 years, so I've received my fair share of amazing (and terrible) gifts. That means I know exactly what any player would want.
Before I show you want to buy, I'll quickly explain what not to buy:
Pre-Made Racket.
Blade.
Rubbers.
These items are highly personal to each individual player's playstyle, so only buy this if your recipient has explained exactly which products to get. It's not worth wasting your money on something they won't want to use!
Anyway, on to the items you should be buying for your ping pong gift recipient. Happy shopping.
Perfect for Table Tennis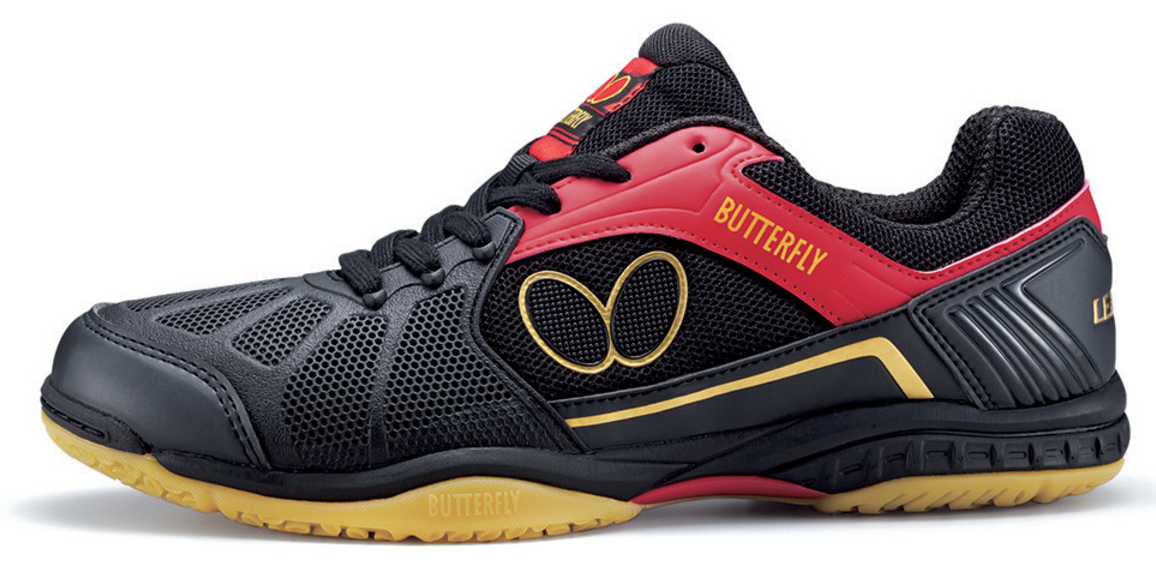 Sole Material: Rubber / EVA
Upper Material: Synthetic Fibre & Mesh
Recommended Fit: True to Size
Summary: Most players use old, battered shoes that aren't even meant to be used for table tennis. I love this gift because people don't often treat themselves to great shoes, but it can do wonders for their table tennis game. You don't get much better than these Butterfly shoes. We recommend buying their normal shoe size.
Shoes are a critical part of any table tennis player's outfit, they need to be comfortable, supportive and grippy to give a player the best chance of moving properly. Without exaggeration, this can mean the difference between winning and losing.
There are subtle nuances that separate this shoe from others available, and that's why I recommend it as one of the best gifts.
For dedicated players, the cushioning will give them an advantage when they play for long periods of time. B-Armor covers the front upper part with KPU material that supports the forefoot during rapid movements. This allows the player excellent response time and gives a boost to their overall reach.
Upper Area is Built for More Mobility and Stability
The upper part is also designed to wrap around their foot to give a snug feeling. This comes in handy when play gets intense since their foot and shoe will move in unison. The bridge-shaped midsole allows for the perfect amount of sliding and mobility.
The last important aspect to point out is the B-Absorber. This is a particular shock-absorbing sponge placed between the outer and middle sole of the forefoot. The purpose of this is to add more cushioning and flexibility throughout the entire shoe.
With the right amount of cushioning, anyone can play for hours on end and not be slowed down at all.
Gift Benefits
Stylish shoe with an excellent reputation.
Top-rated shoe for playing table tennis.
Incredibly durable and long-lasting gift.
Guaranteed comfort and suitability for long playing sessions.
Gift Drawbacks
Sizing can be tricky, although Butterfly sizing is quite standard.
Bold and bright colours may not be perfect for everyone.
Quite pricey for a pair of shoes.
This Is Table Tennis Love
Mobile App?: Yes
Ball Frequency: 5~120 Balls per Minute
Spin Settings: All variations of topspin, backspin, left sidespin and right sidespin.
Warranty: 2 years + 5-year parts availability.
Summary: Most players would give their left leg to train with the Powerpong Omega, it's a truly incredible piece of kit. Not only is this a fantastic gift for players, but it also makes a fantastic donation for local clubs. Make sure your recipient has a full-sized table first or they might be a little disappointed.
It's now 2022, we are officially living in the future, which means it's time to get a robot. Not an evil one that will try to take over the world. No, this robot is even better, it plays ping pong with you.
For a player that has everything, I can almost guarantee they don't have this yet.
In its simplest terms, it serves the ball to you so you can practice shots repeatedly. However, this robot does so much more than that.
Never Get Bored Playing Alone
This robot can be programmed to execute drills so players can practice the parts of their game that require the most work. Need to work on your backhand? Program the robot to send balls only to one side of the table.
It comes preset with 40 different drills that will test all aspects of a player's game. You can control the speed and direction of the robot from your own personal device or with the tablet that comes with it. It also comes with a pocket-sized remote so you can make changes on the fly.
This may not be the cheapest option, but you get every penny's worth out of it. Practicing alone used to be boring and was only for the die-hard players. With this robot, any level player can now play for hours on their own and will improve dramatically.
Gift Benefits
Easy to put up/down on any full-sized table tennis table.
Includes a tablet and remote to control the speed/spin/tempo.
Comes preset with 40 drills to work on every part of their game.
Includes 100 Power Pong 3-star balls.
Gift Drawbacks
The recipient would need to have a table regularly available to them.
An expensive present, albeit one guaranteed to be loved.
Perfect for Training or Competition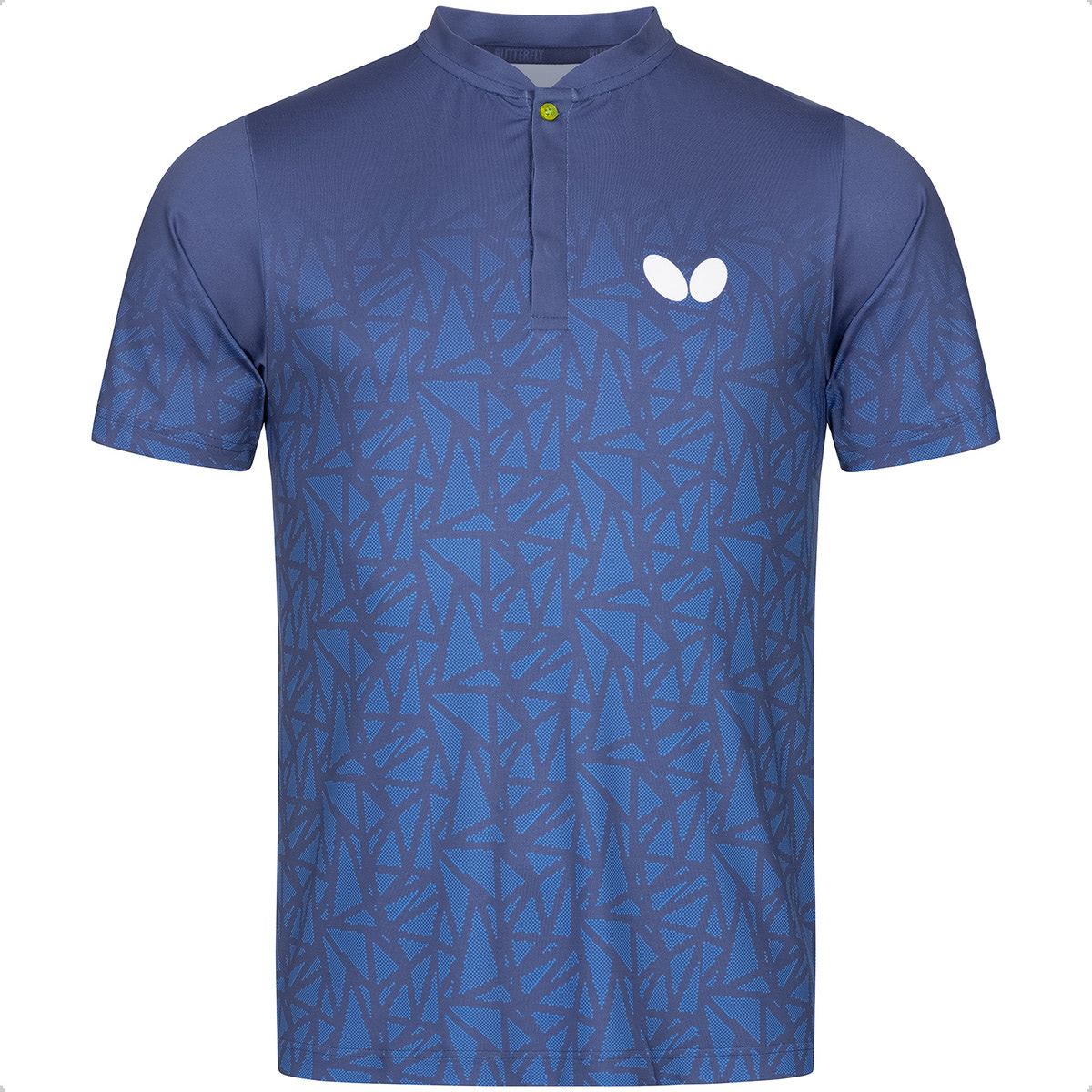 Material: 100% Polyester
Style: Henley
Colors: Red, Blue, Khaki, Anthracite (Black)
Summary: I've always played in polyester sports shirts because I find them to be much more breathable and much less restrictive than normal t-shirts. This 'Higo' design from Butterfly represents one of the best shirts available to table tennis players these days and I think they look fantastic, making them a perfect gift.
We all have that one friend or family member who needs a little help in the fashion department. It can be even tougher to lend a hand when it comes to ping pong as they may have their lucky shirt that never fails them.
If you're tired of looking at that same shirt every time you play them, then do them (and you) a favor and update their wardrobe with this shirt.
Not Your Average Collared Shirt
The Butterfly Higo was developed in close collaboration with professional players' Timo Boll, Dimitrij Ovtcharov, and Patrick Franziska. These players know a thing or two about performance. Unless the person who you're gifting this shirt to can beat them, they should be wearing it all the time.
It's made from 100% polyester, so it's light and breathable. Perfect for those intense games when you need the moisture-wicking features. Choose from four different colors or save yourself the agony of having to choose and just get one of each (maybe keep one for yourself, I won't tell).
Gift Benefits
Eye-catching style and design.
Select a colour that suits your recipient best.
Material is breathable and won't restrict movement, perfect for table tennis.
Highly respected table tennis brand.
Gift Drawbacks
Need to pick the right size.
Bold, bright colours may not suit everyone's taste.
I love this backpack because it's suitable for all levels of players and definitely adds a touch of professionalism to their style. Having played in hundreds of league matches and tournaments, one of the best things you can have is a decent backpack.
The JOOLA Vision II is small enough to easily carry it anywhere but large enough to pack everything they'll need to perform their best.
The main pocket unzips almost all the way around to allow full access to everything in it. There's even a special pocket for a laptop or tablet. With several other pockets as well, this bag is prepared to securely hold all of their belongings.
Keeps Equipment Safe and Looks Great Doing It
There are three different colors to choose from but if you're looking for something vibrant then I recommend the green one. The color pops and is a traditional table tennis shade of green for the true players out there.
The last feature to note is the shoulder straps. They are low-profile but still have lots of comfortable padding. This is perfect for those travelling with heavier items such as a water bottle or extra table tennis equipment.
I've seen many different ways player's carry their belongings, which are often barely organised or squeezed into a tiny drawstring or plastic bag. Save your recipient the trouble by surprising them with one of these beauties.
Gift Benefits
Every player needs a place to store & carry their equipment.
This bag is perfect for carrying to tournaments and matches.
There are super comfortable shoulder straps.
Available in three different colors to match your recipient's style.
Looks professional and stylish.
Gift Drawbacks
Some people carry a lot of unnecessary stuff, so this might be too small for them.
Retractable Ping Pong Net – PRO-SPIN
This is a great gift for all ping pong lovers out there, no matter where you are. I love how easy it is to set up on any table, and the retraction feature is amazing.
The PRO-SPIN extends out to 72", which is the standard length for professional nets. A normal net will only fit a 60" table though thanks to the net posts. In contrast, thanks to the Pro Spin's clamping system and the way the net is attached to it, this net can fit tables that are as wide as 72".
The clamps are easy to attach and are much less bulky than traditional nets. Yes, you will sacrifice some stability but it's a small price to pay to be able to play everywhere and anywhere.
Easily Clamps to a Variety of Different Tables
These clamps also open wider than most other net systems. They can attach to any table, or object, of up to 2" of thickness instead of 1.5" for the industry standard.
The retraction works excellently. It's nice to be able to put this net away quickly. It breaks down into a very small package so travelling with it is no problem as it easily fits into any gym bag or a JOOLA Vision II Backpack perhaps.
It even comes with a mesh carry bag just to keep it all together and in one piece. 
Unsurprisingly, this net features on our list of the best table tennis nets you can buy.
Gift Benefits
Use it on any flat surface, not just ping pong tables
Great cheap gift for any table tennis player.
Fits extra wide and extra thick tables.
Perfectly for enjoying a friendly competitive match.
Gift Drawbacks
Shouldn't be used permanently on a regular table tennis table.
Doesn't have the same tension and stability as a regular net.
Custom Ping Pong Paddle – Uberpong
Their Face On A Paddle
Size: 13" x 8" x 4" (a normal paddle)
Rubber Options: Smooth or Pimpled (Bumpy)
Lead Time: 5 - 10 Business Days
Summary: The perfect personalised gift for any table tennis player or corporate event. Who wouldn't want a paddle with their (or your!) face plastered on the front? Although be warned these are cheap paddles not designed for competitive play.
Buying a paddle for any serious player is usually a terrible idea because it's such a personal piece of equipment. Most experienced players will already have their own and even a couple of backups just in case anyway. But this paddle is different…
It's not intended to be used in serious matches. So why get it as a gift for someone, you ask? Because it's customizable!
Print Any Image on the Racket
Yep, you read that right. You can put any picture you want. Wish them a happy birthday or commemorate an anniversary.
If you're feeling cheeky you can put a picture of something embarrassing on there for them. Perhaps a portrait of yourself so they always remember who got them their favorite ping pong gift ever.
You're only limited by your imagination and the quality of the image you want to put on there. The design platform on the website is surprisingly easy to use. You can try out different pictures and get a preview of them before you commit to anything. Try it out for free anytime.
This paddle isn't meant to replace their current one. It's only meant to bring a smile to their face while they play recreational games with friends and family.
Gift Benefits
Choose the perfect image for your recipient.
Not just limited to one image, get a different one on each side.
Design process is very user-friendly.
Very affordable
Get their name engraved on the handle.
Gift Drawbacks
Not intended to be used as a player's main paddle in competition.
Once you've picked your image, there's no going back.
Online Learning
Lessons: 52 (weekly)
Drills: 148, including demonstrations
Students: 13,000+
Summary: Easily the most comprehensive course on the internet, perfect for any beginner to intermediate player who wants to develop better technique. This will help anyone quickly win more matches against all kinds of opponents. Highly recommended.
Unless the player you're buying this gift for is a professional, they will definitely benefit from a little help to work on their skills. Getting them professional instruction is a great way to show you care. If they love ping pong they will love attending Table Tennis University.
The main feature here is that it's all online. They won't have to travel or rearrange their schedule to attend classes. They can move at their own pace and really take their time to learn everything they can.
The university offers three different levels.
Level 1 is a free tier that focuses on fundamentals, terminology, and the rules.
Level 2 is for beginner to intermediate players who want to start learning about advanced techniques and to perfect their form.
Level 3 is for experienced players who want to learn strategy and how to get the most out of their skills to win more.
Learn From The Best, Play Your Best
For a beginner, this is a great chance to work their way through all three levels and expedite their learning process. By being fully immersed in the ping pong world and working with players who have many more years of experience, they will improve fast.
The courses will also cover proper fitness routines as well as how to choose the best equipment. This is a fantastic course and any table tennis player will jump at the chance to participate in this amazing community.
Gift Benefits
Different options for all levels of player.
Low commitment, the recipient can start whenever they want.
This is a gift that will keep on giving
You're giving lifetime access to the course.
Gift Drawbacks
Courses are long, meant to be taken over a whole year, so they are meant for dedicated players.
Hard to replace in-person coaching at a local club.
Love These Table Tennis Gifts
You have already done the hard part by narrowing your gift ideas down to something ping pong related. If the person you're buying for already has a table and paddle, then any one of these gifts will be met with open arms.
You know they love ping pong, so put a guaranteed smile on their face and encourage them to keep playing and keep improving.
There's no such thing as "too many ping pong accessories."
David's been playing Table Tennis since he was 12, earning his first coaching license in 2012. He's played in national team & individual competitions, although he prefers the more relaxed nature of a local league match! After earning his umpiring qualification in England, David moved to Australia and started Racket Insight to share information about the sport he loves.
Blade: Stiga WRB Offensive Classic | Forehand: Calibra LT | Backhand: Xiom Musa
Playstyle: All-Round Attacker