Obviously, ping pong is the most fantastic game ever invented, right?
But I realize not everyone shares the same view as me, and I can appreciate the appeal of having other games at your fingertips.
A multi-game table is perfect for those of us who don't have a fancy game room and space for each individual game.
That problem has been solved with the invention of the multi-game table. These all have ping pong but offer other games as well. They're great for players who want to learn a new game but don't want to commit to a whole table.
Spruce up your family game night with one of the best multi-game tables available. They will love it, and you'll get to have the ping pong table you've always wanted.
Comparison Of The Best Multi-Game Tables
In-Depth Product Reviews
It's no surprise that you can't expect professional-quality table tennis equipment arriving with a multi-sport table. In fact, finding a table that's the size of a normal ping pong table is virtually impossible.
So, you do have to accept you'll be playing on a Mid-Size or Mini ping pong tabletop.
These are perfect for casual games, particularly with kids. However, you'll find it difficult to adjust back up to a full-sized table if you want to play more seriously.
The alternative, if you want to play more ping pong without buying a full-sized table, is to just buy a ping pong conversion top that can be placed on any existing table.
All that being said, these multi-game tables are awesome in their own right, and I've picked out the best available so you know you're getting a quality product.
Alongside each of these, I do also suggest investing in a proper beginners table tennis racket such as the Killerspin JET400 (my personal favourite). You'll get more spin and control, allowing you to learn more advanced table tennis techniques.
The Hathaway Spartan Table is by far my favorite. It's a table tennis/6ft pool table combo table that has such a classy feel to it you'll feel underdressed playing it.
Its table tennis top is lightweight and quickly installs over the table frame, keeping the competition moving and the fun never-ending.
This multi-game table sports a timeless, black melamine and burgundy playing surface that elevates the table's design into an absolute show-stopper. That same design is matched on the jet-black table tennis top – a rare and classy look.
Quickly Switch Between Sports
The table tennis top is solidly made (albeit making it a bit heavy). This mimics a traditional table closer than any other multi-game table. The net is custom-made to fit the table perfectly, and the sturdy posts will keep it taught. There's nothing worse than a droopy net.
The high-quality materials on this conversion table's billiard side give you the most out of your shots. It features a poly-sealed playing surface with blended felt and well-made rubber cushions.
The player package includes everything you need to get the ball rolling: 1 ping pong table, 2 paddles, 2 balls, 1 net, 2 posts, 1 pool table, 2 cues, a complete set of pool balls, and even a racking triangle.
Although this is a bit smaller than a traditional ping pong table, the quality overshadows that. Being this small just means you can use it in more spaces where a regulation ping pong table wouldn't fit.
Benefits
Classy jet-black color
Table Tennis surface easily fits a top the pool table and sits flush
Each leg has levelers for an even playing surface
Package comes with everything you need for both games
Great for kids to learn two games at once
Small size means it can fit in a lot of spaces
Drawbacks
Only a midi-size table tennis surface.
Table tennis accessories are very cheaply made.
Best Aesthetically Pleasing
Dimensions: 84" L x 48" W x 32" H
Base Material: Engineered Wood
No. Sports: 3
Warranty: 1 Year
Summary: The size and strength of this table separate it from the crowd, then you include its looks and realize this is a great addition to any household. Multi-purpose and comes with seating/storage for when you're not playing ping pong or pool.



This 'Freetime Fun' Rockford provides a rustic farmhouse theme that will impress any guests you have over. You can have a dinner party followed by a ping-pong tourney all on the same night, all at the same table.
The ping pong table can easily be converted into a dinner table or something that can be used for any kind of arts and crafts for the artistic members of the household. It even comes with benches for sitting. Not many multi-game tables offer this.
Stunning Looks & Highly Versatile
The 3-in-1 design for pool and table tennis, with a versatile tabletop, makes it perfect for game night, but also everything you'd want in a charming table. It features durable distressed oak melamine, antique metal accent pieces, and sturdy trestle legs. The legs are also fitted with levelers to ensure a fair playing surface.
Its user-friendly design makes it great for the game room, home office, or dining room. It also comes with built-in storage through two comfortable, soft padded benches. This fantastic feature means you can store all your gear easily and when not in use.
Rockford is an excellent option for those who want to make the most out of an empty space in their home. When it's set as a table, you can barely tell that a ping pong and billiard table reside underneath.
It comes with 2 ping pong balls, 2 paddles, 1 net, 2 posts, 6 trusted protection pads, and a complete set of billiard equipment, including a table brush, rail brush, and two pieces of chalk.
Benefits
Aesthetic and trendy look
Multi-functional flat tabletop
Added storage within the comfortable bench seating
Easy transition to ping pong playing surface
Package comes with everything you need for both pool and table tennis
Drawbacks
Due to its durability and quality, it's quite heavy
This is an expensive multi-game table
The Rack Crucis is a 3-in-1 table tennis, air hockey, and pool table. It features a lightweight frame that blends sturdiness and durability to give you a genuine feel.
The ping pong table comes in traditional green or blue, so it looks like a mini-version of authentic tournament tables. Perfect for hosting events and getting the competitive juices flowing.
Small But Mighty Multi-Game Table!
Weighing in at an incredibly light 6lbs, you can fold the legs smoothly, making moving and storing the table painless and straightforward. It also comes fully assembled, so you can dive right into the game as soon as you get it.
This feature is more beneficial than you may think. It fits easily in the back seat of a car, so you can bring it to the cottage or set it up in your friend's garage.
Having the option of three different games is the best part about this table. While I love ping pong, I'm always ready for a rousing game of air hockey as well but would never buy a dedicated air hockey table. Obviously there's no air, but the air hockey surface still works surprisingly well.
Benefits
Portable due to its extremely lightweight
Easily storable with fold-in legs and a 5.5-foot frame
Regulation grade velvet that's smooth to the touch
Conversion top sits flush to the table
Lifetime warranty
Drawbacks
Paddles are cheaply made
Small imperfections can be found with build quality
5.5ft is quite small for a ping pong surface
Easiest To Use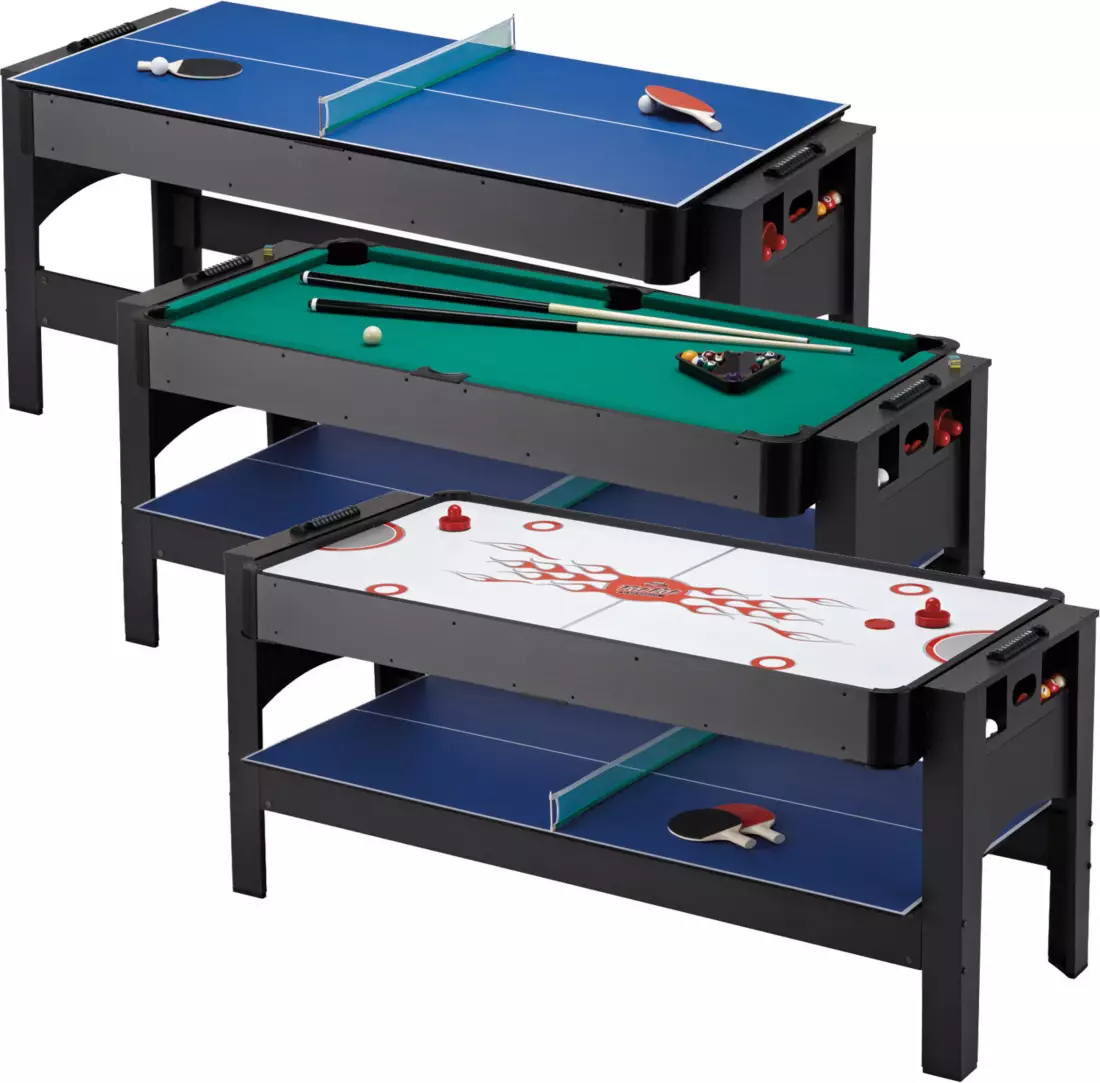 Dimensions: 87.0" L x 44.0" W x 32.0" H
Base Material: MDF
No. Sports: 3
Warranty: 30 Days
Summary: One of the coolest tables out there, it rotates from one game to another. Play ping pong on either side and when you're done, store the ping pong table underneath and lock the table in an upright position to save space.

Though it comes in at a whopping 7 ft and 280 lbs, don't be fooled by its size: this multi-game table is made to shift between your favorite games quickly. Just like tables you have seen in the movies, change from game to game faster than an F1 pit crew.
The Fat Cat multi-game table combines table tennis, air hockey, and pool. The rotation of the table is the star of the show here. It uses tri-fold table tech, meaning all you have to do is simply unlock the latches on the side and flip to your desired game.
Switching Games Is Fast AND Safe
No matter your age or strength, switching between games is a breeze. The patented lock latching system is more structurally supportive than the pins used by most multi-game tables.
You can also lock it in an upright position to save space if you want to store it somewhere.
Its table tennis top separates into three sections making it easily storable and the assembly effortless. Casual players won't mind the gaps that a tri-fold system requires. They are barely noticeable and only affect gameplay if struck perfectly.
The table also sports a 110V air hockey motor, accessory storage rack, adjustable leg levelers, and all the accessories you need to play each game.
Benefits
Tri-fold tech that makes switching between games much faster
Lock latching system is easy to use for all ages
110 V motor for a genuine air hockey experience
Comes with all accessories you need to start playing right away
Accessory storage on sides of the table
Drawbacks
Larger size makes it hard to move
Table tennis top folds in three, creating minor seams on the playing surface
Quality & delivery standards aren't the highest
Best For The Whole Family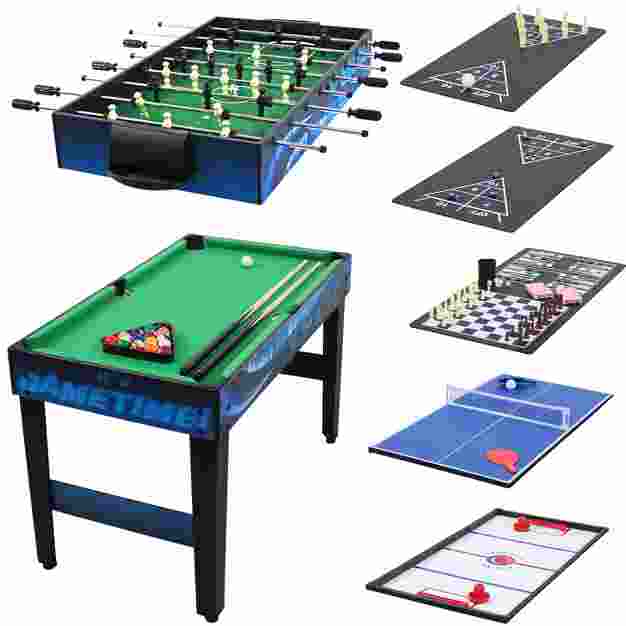 Dimensions: 41.25" L x 24" W x 32" H
Base Material: Engineered Wood
No. Sports: 1
Warranty: 1 Year
Summary: Due to its size and versatility, this game table is made for everyone in your family. From ages 8 to 88, all generations can play ping pong and nine other classic games testing your skills and strategy in each.

With the Sunnydaze, you get a 10-in-1 table which gives you a whole arcade right in your home.
Because there are so many games, the ping pong table is noticeably smaller than others. I love that it's still made with the traditional blue, and it's thicker than I expected.
All The Games You Love With None Of The Hassle
This table comes with everything you need to play. The additional game boards fit securely on top of the pool table, and the only time-consuming transformation is the foosball table. A feature I really liked about the foosball table is the manual scorers on each side; there are never any scoring disputes with this.
Though there are a lot of accessories and decks, you don't have to worry about where to put them–simply store the game boards under the pool table. Now you don't have to worry about losing any extra pieces.
If your family is tired of playing ping pong with you all the time, you can easily distract them with one of these other games…briefly, then go straight back to ping pong.
Benefits
10 games to play!
Custom net and post set for ping pong
Comes with all accessories needed
Manual scorers is a great addition
Easy storage for all the game boards
Drawbacks
A little more fragile than others
Playing surface is relatively small
No air for the air hockey
The MD Sports Multi-Game Table feels like a trip to Chuck-E Cheese. Parents will love it because it doesn't have the same bright lights and loud video game sounds as Chuck E. Cheese's, nor is it covered in pizza sauce.
With so many games to play, It's a great way to get your kids off their tablets. All the games encourage team-building, strategic thinking, and goal-setting skills that will stay with your children for the rest of their lives.
Switch Sports Quickly & Easily
This table is decidedly for kids, but the ping pong lovers will be pleasantly surprised with the quality of this playing surface. It's made thicker than the other games, so you get a great response off the bounce.
Again, the rackets are something to be desired, but they are perfect for when your buddies come over, and you don't want to lend them yours.
The almost endless list of games includes pool, air hockey, table football, basketball, cornhole, archery, chess, checkers, backgammon, and dice.
Benefits
12 games to keep your kids occupied for hours
Thick ping pong table for fast-paced action
Net is decorated with a trendy white border
Switching games is so easy the kids can do it by themselves
Comes with all the accessories you need
Drawbacks
Only ping pong will grab the attention of adults
Can be a little wobbly after setup
Assembly is fiddly
Buyer's Guide
It was pretty challenging finding the best tables since they are not primarily made for ping pong. They are a far cry from traditional tournament tables but will be easier to get in your house or apartment due to their size and multi-game offering.
Here's what I looked for when determining the best multi-game ping pong table.
Table Integrity
This was the big one since I didn't want to recommend any 'toy' tables that are too far from the actual game of table tennis.
All these multi-game tables listed have solid playing surfaces, and you will see some action on your ball responsiveness. I recommend using your own paddle or getting a proper one (we loved reviewing the Killerspin JET400). The included paddles are definitely where the manufacturers save a bit of money.
The nets are all dependable, though. However, take good care of the posts and clamping system because they will most likely be the first to break should an accident happen while you're changing games.
Most tables have excellent storage capabilities, so make use of those and your table will last a long time.
Proper Set-Up And Storage
One of the great features of these tables is their mobility and space-saving design. They are all much smaller than a standard ping pong table, but you gain versatility when you lose size.
Some of these tables fold up, and some are made to stand on their side to create more floor space. This is to your advantage since you can fit these in your living room and don't need a dedicated game room.
True ping pong players can use this to their advantage. Practicing on a smaller table will improve your accuracy, so when you switch back to a regular table, it will look like a football field. Aim small, miss small.
What Games Do You Love The Most?
For some, the 10-in-1 table may not suit your needs–maybe you don't need a basketball hoop to go with your ping pong table. But if you've been petitioning to get a ping pong table in your house, this could be the bargaining chip you need to make it happen.
If your significant other wants a pool table, but you want a ping pong table, get the Hathaway Spartan 6-Ft Pool & Table Tennis Multi Game Table. It has a classic look that will fit in with any decor, and it satisfies everyone's needs.
Accessories To Add To Your Multi-Game Table
You're probably tired of hearing this, but I suggest using your own paddle with these table tennis games. The ones included are flimsy and provide little to no grip. It's also tough to get any spin on your shots with the rubbers provided.
Add a paddle to your multi-game table so when you switch to regulation size, your practice will have paid off.
For the pool players out there, it's probably best to use your own cue as well. Some of these are shorter to fit in tight spaces. The length will affect the overall weight and easily throw your whole game off.
Conclusion
The best multi-game table will be the one that has all the games you want to have. They all have ping pong, so you're good there, but they each have their own style and personality as well.
The Hathaway Spartan 6-Ft Pool & Table Tennis Multi Game Table was easily my favorite because I can be a bit traditional at times, and this is one of those times. But I see value in all of these because they offer so much.
Whether it's for you and your pals or your family, these tables add great competition to any game night.
David's been playing Table Tennis since he was 12, earning his first coaching license in 2012. He's played in national team & individual competitions, although he prefers the more relaxed nature of a local league match! After earning his umpiring qualification in England, David moved to Australia and started Racket Insight to share information about the sport he loves.
Blade: Stiga WRB Offensive Classic | Forehand: Calibra LT | Backhand: Xiom Musa
Playstyle: All-Round Attacker