Having coached hundreds of players, I can easily say that footwork is where most players struggle to improve. It's criminally ignored by players who want to win more matches.
Developing good footwork depends on having the confidence that your shoes stay connected to the floor and allow you to make constant micro-adjustments that get you in the right position.
If you're struggling with footwork, it could be your shoes holding you back.
Regular running shoes, tennis shoes, and sneakers are all made for their respective purposes and are often too bulky for table tennis.
I've narrowed down your search to these top table tennis shoes. They include shoes for advanced players and for complete beginners on a tighter budget. All of them will help level up your footwork.
Comparison of the Best Table Tennis Shoes
In-Depth Table Tennis Shoe Reviews
For those ready to take their game to the next level, a pair of high-quality table tennis shoes could be the answer.
Often overlooked, a good table tennis shoe deserves more credit for what it offers a player. You won't see great players wearing tennis shoes or running shoes. They are not designed for the unique movements that are required in table tennis.
I originally started playing in a cheap pair of trainers, but often found that I would slip during rallies and my feet would hurt at the end of a long training session. Making the switch to the Mizuno Wave Drive 8 and then the Butterfly Lezoline Rifones allowed me to develop my own footwork much faster, with much more confidence.
Some people find success by using volleyball shoes or badminton shoes. They are the closest in design to table tennis shoes but still not quite the same. If you already have a pair of these, definitely use them for table tennis until you decide on a pair from the list below.
I will be pointing out the differences in the detailed reviews below. There is a shoe for all levels of players, and they will help you improve quicker than you think.
Best Overall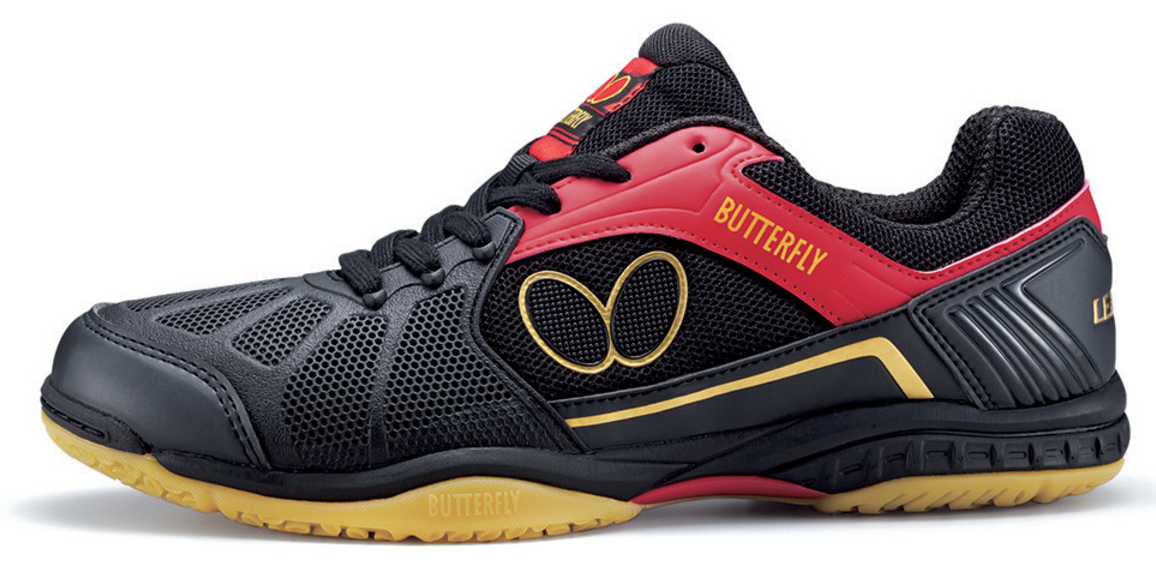 Sole Material: Rubber / EVA
Upper Material: Synthetic Fibre & Mesh
Recommended Fit: True to Size
Summary: If you're serious about improving your Table Tennis game, get a pair of the Butterfly Lezoline. They're about as good as you can buy for providing durability, breathability and support during an intense Table Tennis match. You need to spend a bit extra to get these, but the cost will pay itself back with years of use.
Let's start with the top-of-the-line shoe. There are subtle nuances that separate this shoe from the pack and these are why I rate the Lezoline Rifones as the best table tennis shoes.
Firstly, the cushioning is fantastic and will give you an advantage when you're playing for long periods of time. Training for a few hours at a time is no issue whatsoever.
A technology Butterfly calls 'B-Armor' covers the front upper part with KPU material that supports the forefoot during rapid movements. In practice, this means your foot is tightly secured in the shoe which allows for an excellent response time when you move.
Upper Area is Built For Mobility and Security
There is a bridge-shaped midsole that allows for the perfect amount of structure and mobility, along with relatively high ankle support preventing injuries when quickly changing directions.
The last important aspect to point out is the 'B-Absorber'. This is a particular shock-absorbing sponge placed between the outer and middle sole of the forefoot. This works to add more cushioning and flexibility throughout the entire shoe, which you can feel as soon as you put them on.
With the right amount of cushioning, you can play for hours on end and not be slowed down at all. Overall, I've always felt this shoe has a fantastic balance for table tennis play.
Benefits
Butterfly's patented 'B-Armor' and 'B-Absorber' technology.
Incredible foot & ankle support during fast movements.
Bridge-shaped midsole for easy mobility.
Shock-absorbing sponge for additional comfort.
Stylish, unique colors and design.
Drawbacks
Not the most breathable.
Can take a while to get used to the feel.
Comfortably the most expensive on this list.
Super Comfortable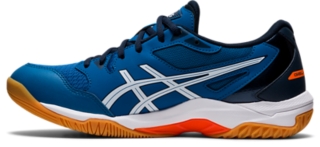 Sole Material: Amplifoam with Gum Rubber Outsole
Upper Material: Synthetic with Mesh
Recommended Fit: True to Size
Summary: Outside the world of Table Tennis, the ASICS Gel-Rocket 10 is one of the most popular court shoes in the world. The soles are thicker than others in our list, so these are perfect if you need an extra bit of help moving away from the table. Perfect for any defenders or loopers.
It's no secret that a light shoe will help your table tennis. A light show will give you many advantages, but the most useful and obvious one is speed.
Even if your experience with the game is limited, you probably already see the advantage of being faster to the ball and playing shots from a better position. In order to play your best shots, you need to cover a large area quickly.
Move Faster Than Your Opponent To Gain The Upper Hand
To help improve your speed, get a shoe like the ASICS Gel-Rocket 10 that is built using ASIC's 'Trusstic System Technology'. This fancy name means that the sole is as light as possible without sacrificing its structural integrity and still providing a good degree of cushioning.
To further reduce weight, the upper part is made primarily of mesh. This serves two purposes for us: the first is weight reduction; it's light as a feather. The second is breathability. This should not be understated as table tennis can be an exhaustive sport. The more moisture builds up in your shoe, the more chance you have of causing injury.
Being light doesn't mean it lacks support. The gel cushioning in the heel works wonders for absorbing impact. This allows you to change direction very quickly. The back part also wraps around your heel to help with impact and to support your ankle.
Benefits
Lightweight 'trusstic' system tech.
Breathable upper mesh.
Heel wrap design to protect your ankle.
Gel cushion to absorb impact.
Faux leather outsole improves flexibility.
Drawbacks
Basic old-school design.
Limited 'feeling' with the floor due to cushioning.
Entry Level Shoes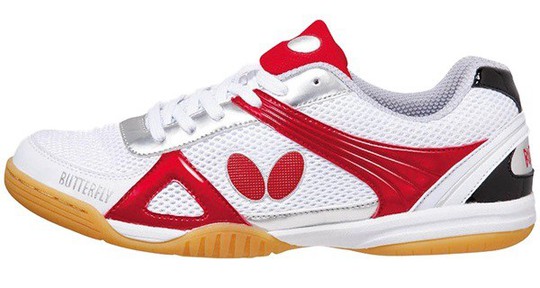 Sole Material: Rubber / EVA
Upper Material: Synthetic Fiber & Mesh
Recommended Fit: Narrow
Summary: This is the entry-level shoe from Butterfly, perfect for beginners who want to move away from their existing trainers. Perfect for anyone looking to take table tennis a little bit more seriously, helping you develop your footwork without risk of injury. Not going to win any style awards... but they don't need to.
Another tremendous all-around shoe here. I recommend this one to anyone new to table tennis who wants something stylish and maneuverable. These shoes are great introductory pair that won't break the bank.
After using this pair for a while as a beginner, you will notice a massive improvement in footwork. This will allow you to focus more on other areas of your game that need development.
The rubber sole will keep your feet gripping to the floor while also allowing you to move quickly in and out of positions. This sole is also scuff-resistant to protect the floor but also to keep your shoe looking great.
Play and Practice Longer in These Table Tennis Shoes
Another versatile aspect of this shoe is the mesh construction. This allows for multi-directional mobility, which is excellent for players who are still developing their style.
The mesh construction also keeps your feet cool and dry throughout tough matches.
Available in either blue or red, these shoes are stylish if a little boring. They are a little bit small (narrow) so you may need to go half a size up if you have wider feet.
Benefits
Helps to develop good footwork.
Excellent grip provided by a scuff-resistant rubber sole.
Upper mesh keeps feet cool and dry.
Drawbacks
Limited ankle support.
Not the best cushioning, not the lightest shoe available.
Great for Experienced Players
Sole Material: XG Rubber
Upper Material: Microfiber Artificial Leather & AIRmesh
Recommended Fit: True to Size
Summary: You can't go wrong with a Mizuno shoe. I wore the Drive 8 for a majority of my early-20s and they were fantastic. A great balance of supportive, lightweight, breathable and durable. Worn by many of the top Asian players, these are on par with the Butterfly Lezoline Rifones.
Have you tried other table tennis shoes and been less than impressed? Maybe they were too heavy, too uncomfortable or didn't provide enough grip. Perhaps they didn't fit well and kept sliding off your heel or provided no arch support.
Growing up playing table tennis 3-4 times a week, I could relate to all of that until I found these shoes — the Mizuno Wave Drive 8. They're designed for experienced players who want top performance.
This shoe is not listed at the top because it's an older model that's been overtaken by the Butterfly Lezoline, albeit it's still an incredible shoe for playing table tennis.
This is for those fed up with "introductory" shoes and who want a pair that covers all their needs and will be with them for a long time.
Building a Great Shoe From The Ground Up
Starting with the heel wave plate, this is one of the most ignored aspects among other shoe manufacturers. Great ping pong players use their whole foot when maintaining balance and moving quickly around. This heel plate keeps your foot active and more center-balanced no matter where you make impact.
The anatomically molded cup inserts also work to keep your foot engaged but comfortable. It's removable as well to make washing very easy.
Good players will appreciate the thinner aspects of the shoe that keep it lightweight and allow you to feel more connected to the ground. Perfect when you need to make micro-adjustments to get in the right position.
Benefits
Heel wave plate for quick mobility
Great balance to the shoe when moving around the table.
Anatomical cup insole keep your foot still in the shoe
AIRmesh upper allows for maximum ventilation
The entire shoe is made from thin material to increase feel with the ground.
Drawbacks
Can be quite expensive to buy.
Not overly comfortable compared to other shoes.
Super Lightweight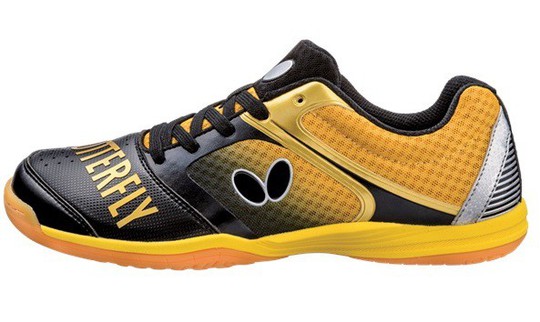 Sole Material: Rubber / EVA
Upper Material: Synthetic Fiber & Mesh
Recommended Fit: True to Size
Summary: One of the lightest Table Tennis shoes you can buy, the Butterfly Groovy does not disappoint on function or design. As close as you are going to get to playing in bare feet, these shoes are great if you're often playing close to the table and need to make quick, sharp footwork adjustments.
If you're looking for a super-lightweight option, these are your shoes. Honestly, I've never worn shoes that allowed me to feel so connected to the floor whilst still providing a reasonable level of support.
These are really designed for an intermediate-level player because they support faster play and micro-adjustments of footwork, which isn't so relevant for beginners.
In my humble opinion, they look really stylish and stand out in the table tennis hall. However, they are not just for show. Butterfly is a prestigious name in the world of table tennis, and these shoes prove it. These are a better-looking version of the original Butterfly 8001 Classics.
They Feel Like a Second Skin
The thinness of the shoe is evident in the midsole and gives you the sensation of playing barefoot. This keeps you light on your feet and very speedy.
To add to its stability, this version has removed the mesh from the toe and covered it up. This helps to keep your forefoot flatter and your weight on the balls of your feet more. With this, you can move laterally more easily without the risk of rolling your ankle.
The sole is relatively flat. This helps with traction and maintaining grip but can feel a bit out of place for some more used to prominent arch support.
Benefits
Very cool and fashionable design
Built for fast footwork
Protective toe covering
Extra grippy sole
Available in different colors
Thin midsection for added feel
Drawbacks
Very little arch support.
Styling may not be for everyone.
Buyer's Guide
Getting a new pair of table tennis shoes can be very difficult, especially with the many different options available. Each player will seek different qualities depending on their experience and skill level. You must weigh these options carefully yourself, so you get what will benefit you and your game the most.
Importantly, you must first check the shoe isn't too large/small before playing. Your foot should fit snugly into the shoe without your toes touching the end. Some discomfort is to be expected, which will go away after a few training sessions as the material softens.
I put together a checklist here of what aspects to consider before you hit the "buy now" button.
Weight
It's very important that any shoes you wear aren't too heavy, as this will impair your ability to move quickly into the right position. The options I've provided above are all within a reasonable range, although some take it to the extreme by being extraordinary light.
Ensure the weight of your shoes is comfortable for you. A heavier shoe provides more stability but may be clunky. Lighter shoes are faster but lack a bit of stability when changing directions. It may take a few pairs of shoes before you find your preference.
Sole
This is where the magic happens. For those buying your first pair of table tennis shoes, this is where you will notice the most significant difference. Find a shoe that gives you maximum traction.
All the shoes listed above do that. I couldn't include a shoe that fails to grip the floor and allow you to make swift lateral movements.
If you are sensitive to arch support, then this is where you can address that issue. Ensure the shoe you pick satisfies your arch preference. Some people do buy shoes that are very lightweight and put in a small insert to give a bit more arch support.
The other important factor for a sole is that it must be non-marking so that you can use them in a gym or club setting.
Breathability
Most modern table tennis shoes are very breathable. The more breathable, the better as long as you don't sacrifice durability.
Shoemakers incorporate mesh to allow more airflow through the shoe, which helps your foot to breathe. Mesh is very thin and flimsy, and to use it more, they must use less of the other more sturdy materials such as synthetic leather.
If you play in warm climates, then I would recommend looking for something with maximum breathability. If you primarily play in cool areas, then breathability may not be a huge concern for you.
Ankle Support
Ankle support stems from the different heel properties crafted in each table tennis shoe. For more ankle support, look for something softer and more accepting of your heel. This allows your foot to sink into the shoe more and keep your ankle steady.
Take note that your ankles are safe and comfortable, and let them be free to move and practice your technique to protect them.
Durability
Do you play once in a while or once a week? This will tell you how durable your table tennis shoes need to be.
All the ones on this list are on the higher-end of durability but if you play more than once a week, go for the Mizuno Shoes Wave Drive 8 or Butterfly Lezoline Rifones. They're made with professional consideration and will last at least a couple of years heavy usage.
Style
Style can still be limited amongst table tennis shoes, but go for the Butterfly Groovy or Rifone table tennis shoes if you really want to express yourself.
They have released a line of quality shoes that also come in a variety of colors. It's not only the attractive colors that garner attention; the design is very modern and up to date. You'll be noticed immediately when you show up to your practise sessions in a pair of these.
If style is not on the top of your list, you'll have no problem choosing a shoe with an understated look.
Conclusion
Ping pong requires very little equipment. Your paddle and shoes are all you need to play elite-level table tennis. You want to be able to cover as much area around the table as possible. So it's vital to be outfitted with the best of the best to improve your game.
If you have never used table tennis shoes before, you'll be shocked at the value they possess to improve your game and start producing more wins for you.
I've seen many people succeed with any of these shoes, but I absolutely love the Butterfly Lezoline Rifones since they are a fantastic, balanced shoe and will be with you for a long time.
Whichever shoe you choose, never wear them outside and take good care of them; they will return the favor, I promise.
David's been playing Table Tennis since he was 12, earning his first coaching license in 2012. He's played in national team & individual competitions, although he prefers the more relaxed nature of a local league match! After earning his umpiring qualification in England, David moved to Australia and started Racket Insight to share information about the sport he loves.
Blade: Stiga WRB Offensive Classic | Forehand: Calibra LT | Backhand: Xiom Musa
Playstyle: All-Round Attacker