Having a quality net can be the difference between a good game and a bad one. Nobody likes losing a point to a ball that should've hit the net but ended up dribbling over.
A good net depends on where you'll be using it and how often, but two factors always remain the same: the right height and the right tension.
So, say goodbye to those ugly green, withered club nets and invest in a net that's built the way table tennis is meant to be played.
Every net we recommend has been playtested and used extensively by our team, so we know they'll be perfect for you.
Comparison of the Best Table Tennis Nets
In-Depth Table Tennis Net Reviews
I've played table tennis for nearly 20 years now, so I've played on tables with a wide variety of nets available.
The worst? That's definitely any metal net you find on outdoor tables. If the ball so much as brushes a metal net, it's flying off into another dimension. Fortunately, this isn't a problem most of the time.
Most normal nets are made of similar fabric materials that allow a bit of give when the ball makes contact, ensuring the ball has a chance of making it to the other side when clipping the top of the net.
It needs to be pulled tight, so it passes the "finger twang" test. Pulling on the net cord provides some resistance and when you let go it has a satisfying twang. If it doesn't, use the two pieces of string at the end to tighten it up.
Here are my top recommended nets that are guaranteed to be durable and easy to use.
Best Overall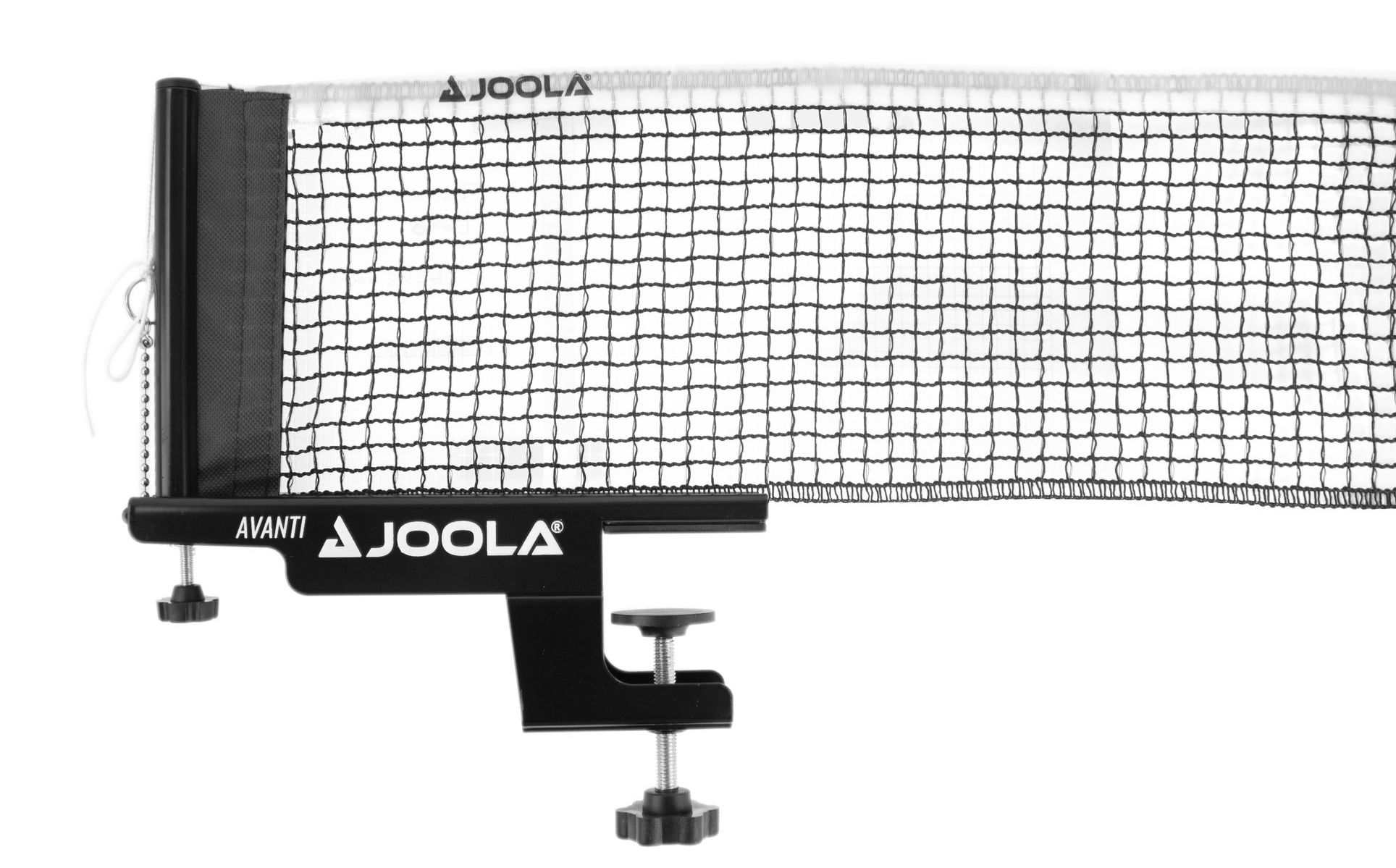 Type: Clamp and Screw
Max Table Thickness: 1.5 Inches
Weight: 0.74 Kilograms
Height Adjuster: Yes
Warranty: 1 Year
Summary: I've been using these JOOLA nets for years. They're more robust and adjustable than clamp nets, and I've found these will easily last many years if they're treated well. You can't go wrong with the JOOLA Avanti.
A clamp and screw-style net that is durable and easily adjustable. This is a high quality net that does the job exactly as needed. At home, this is the perfect net for regular use.
The net itself is a strong cotton material that will last for a long time. There's no risk of this net fraying or becoming loose if you're putting it up/down regularly.
Does Everything A Good Net Should
For a clamp system net, this one is surprisingly easy to set up. The clamps open wide so you can affix them to a wide range of table widths. They also have rubber protectors on them to keep your table looking new. The screw can be a little bit small and fiddly, although the shape makes it easy to grip and apply the force you need.
Once the net is set up, you can easily adjust the tension. The ball chain on both sides is crafted with quality in mind and doesn't lose tension quickly. This net stays taut for a long time.
Take It With You Everywhere
Even though it's so durable, I was happy with how light it was. Dismantling, set up, and traveling with it are very convenient. They've shaved off quite a bit of bulky weight from previous versions.
This net is aimed at players looking for high quality who don't want to break the bank.
Benefits
Sturdy and doesn't move once clamped to the table.
Tension string is easy to use.
Adjustable post height ensures the net is always at the right height.
Strong net and post material.
Drawbacks
Screw handles are a little small.
Screw nets do take more time to put on / take off.
Best Clip-On Net
Type: Clip On
Max Table Thickness: 1 Inches
Weight: 0.75 Kilograms
Height Adjuster: No
Summary: Whilst clip-on nets are inherently less adjustable, they balance out by being so much easier to use. This net takes just 2 seconds to clip on and get playing. It's one of the few tournament-standard clip-on nets as well.
For a faster and simpler setup, I recommend the Stiga Clipper. It's perfect if you're always having to put your table away between sessions because the setup and takedown are swifter than a clamp-style system. However, your table must be less than an inch thick for this clip to fit.
A Sturdy Clip-On Net
This is a tournament-approved net that has put durability at the top of its list. The net is a regulation length of 72" and is made from a cotton blend.
Its tension adjusters are metal and ensure that this net will stay tight throughout the game.
Nobody likes a saggy net.
You can feel the quality in the spring-loaded clips. They are thick and wide so that you can attach them securely to a variety of table thicknesses. Securing it right in the middle is no problem and will keep the two halves of your table steady.
Bonus Height Measuring Tool
As a bonus, the STIGA Clipper also comes with an official height measuring tool. It's a narrow horseshoe-shaped tool that straddles the net to let you know the exact height. Use it to check all along the net to ensure it's at a uniform height. This is the same tool you'll see umpires use at national/international events.
At least you'll never have anyone complaining about the net height again.
Benefits
High-quality spring-loaded clamps
Setup and takedown is super quick
Sturdy steel posts
Also includes a height measuring tool
Metal rings for easy tension adjustment
Drawbacks
Not as tight as screw clamps
Table must be <1 inch thick
No net height adjuster
Best for Clubs & Tournaments – JOOLA WM
For Clubs & Tournaments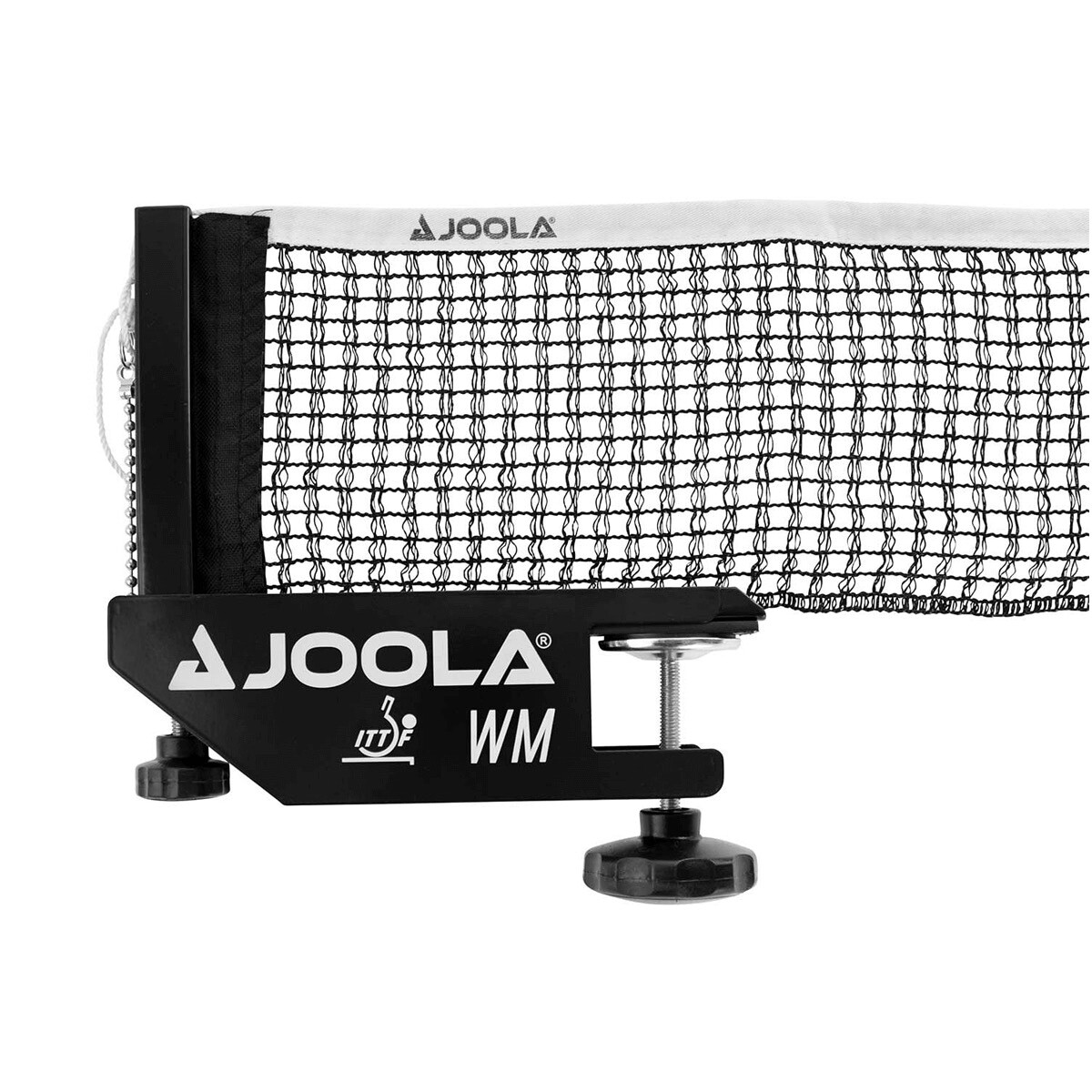 Type: Clamp and Screw
Max Table Thickness: 1.5 Inches
Weight: 1.4 Kilograms
Height Adjuster: Yes
Warranty: 1 Year
Summary: Over the last 10 years, it's been my favorite net to set up and use at all the clubs I've played/coached at. Its bulk (and price) make it less relevant for home setups, but perfect for table tennis clubs.
Clubs and tournament venues have different needs for a net than purchasing one for a home table. Primarily that the net needs to be able to take a beating.
With people regularly putting on and taking off nets, you're inevitably going to get people mistreating them. That pile of net posts and nets sitting in a bucket? Yeah, you need a net that can handle that.
Better Materials For High Volume Play
One thing that makes the Joola WM great is the double-woven cotton-steel thread. It'll take years to wear down and won't tear easily. This also helps keep it taut throughout the game.
Then you have the post assembly itself. It's thick and sturdy, which makes it super durable. Although be aware this also makes it quite bulky for storage,
The clamps themselves are fitted with thick rubber to keep them from sliding. This rubber also protects your table from scratches. The handle on this is also quite large and fits comfortably in your hand.
A Clamp Style Net You Can Travel With
Being a clamp style, it does take an extra minute or two to get it all set up. But that doesn't mean you can't travel with this net. It comes with a handy carrying case as well. So even if you're not using it, you can easily keep it protected.
Within the case is also a net measuring tool to ensure the proper net height. In my experience, these get lost super easily so it's nice to have spares.
Benefits
Specially designed net for constant usage
Two solid steel posts for durability
Approved by ITTF and used in US national tournaments
Thick rubber on clamps protects your table
Includes a handy carrying/storage case
Drawbacks
Net assembly is bulky, especially when storing
Slightly heavy when it's all packed up in the carrying case
Consider it a long-term investment for the price
Nets can be quite expensive, so I wanted to ensure there was a more affordable option on this list. Whilst this net isn't quite up to tournament standard, it'll work perfectly on any at-home setup.
This is actually the net I bought for my friend's place when he needed a new net.
Keeps The Net Securely In Place
Don't judge this net solely by the price. I found a lot of great features here, and it belongs on this list.
The most important part of a net system is holding the net in place and keeping it from sliding. This net does just that with tacky rubber inserts on both sides of the clamps.
A Lot Of Durability For Such An Inexpensive Net
The net itself is made from a cotton material that is industry standard. Take care of it, and it will last a long time. Don't store/keep it outdoors. It's suitable for standard width, 60" table tennis table, and has tension adjuster beads on each side made of metal.
When storing this net, the posts collapse down into the base which makes them really easy to store in tight spaces. In my experience, it's easier to pull the net over the posts and then clamp them down onto the table afterward otherwise it can be a little challenging.
For a net at this price range and to function as well as it does, it's a great deal. Perfect for your home games room or basement. No one will know how little you paid for this.
Benefits
Very affordable
Tacky rubber clamp to keep it from sliding
Super lightweight
Posts rotate in for storage or traveling
Drawbacks
Metal clamps can cause damage if tightened too much
Tension adjuster is a bit fidgety
Design is very slim between the two table halves.
Best Outdoor Net – JOOLA WX
Outdoor Net
Type: Clamp and Screw
Max Table Thickness: 1.5 Inches
Weight: 0.9 Kilograms
Height Adjuster: Yes
Warranty: 1 Year
Summary: Whilst indoor nets can be used outdoors, you do need to take extra caution. If your table is regularly used outside, get the JOOLA WX for some added protection from any damage caused by wind/rain/sun or your extra aggressive smash.
If there is anything better than playing table tennis, it's playing table tennis outside. Playing outside is a great, social way to enjoy some nice weather (when it isn't windy!).
Durability Designed For Outdoor Use
Playing outside requires a slightly different net to withstand the elements. This net is definitely suited for outdoor weather, but it's also suitable for use indoors as well.
The beautiful blue construction looks great. It's a welcome change from many net systems that keep their design and color scheme very traditional. The blue immediately draws your eye to the well-crafted aluminum frame.
By using aluminum, this system can hold up very well in all sorts of weather. The other significant part about aluminum is that it's light, so traveling with this is a breeze.
Reinforced Cotton and Aluminum Net Post
The net itself is made from a durable cotton material that will withstand long periods outside. It's regulation length, and ITTF approved. The screw clamps are made to fit any table that is 1.5" or less in thickness (that's most of them).
This is a tournament-level net that has all the features you need, including height adjusters and tension cords. The fact that it can be used outside is a huge bonus.
Benefits
Designed for outdoor use
Stylish blue colored design
Lightweight design with strong net posts
Height and tension adjusters
Drawbacks
Mechanism for locking the net in the post is fiddly.
No instructions provided, so be careful using it for the first time
Play Anywhere
Type: Retractable
Max Table Thickness: 2 Inches
Weight: 0.89 Kilograms
Height Adjuster: No
Warranty: 1 Year
Summary: There are lots of off-brand retractable nets available but this is the best I've found, especially at this low price point. Makes a perfect gift, or if you just want to play whilst on holiday or on your kitchen table.
I'd never recommend this as the main net for your full-sized table.
However, this is a great way to play no matter where you are. I love how easy it is to set up on any table, and the retraction feature is pretty awesome.
Retract And Use In 2 Seconds
The net extends all the way out to 72", which will easily cover a full-sized table and beyond. A normal net will only fit a 60" table. In contrast, thanks to the Pro Spin's clamping system and the way the net is attached to it, this net can fit tables that are as wide as 72".
The clamps are easy to attach and are much less bulky than traditional nets. You will sacrifice some stability but it's a small price to pay to be able to play everywhere and anywhere.
Clamps Easily On Any Table
These clamps also open wider than most other net systems. They can attach to any table, or object, of up to 2" of thickness instead of 1.5" for the industry standard.
The retraction works excellently. It's nice to be able to put away a net this quickly. It breaks down into a very small package so traveling with it is no problem as it easily fits into any gym bag.
It even comes with a mesh carry bag just to keep it all together and in one piece.
Benefits
Easily retracts for storage or travel
Fits extra wide and extra thick tables
Use it on any flat surface, not just ping pong tables
Includes a carrying bag
Great value even if it's only used occasionally
Drawbacks
Not as sturdy as a regular net
The netting is reasonably low quality (but functional)
Won't last forever
Ping Pong Net Buying Guide
Buying the right net will depend on how much you plan to use it, where you will use it, and how many people will be using it when you're not around. There are a few factors to consider;
Types Of Nets
There are 3 different types of nets commonly used by table tennis players around the world.
Retractable
This type of net is used mainly by recreational players. It lacks the stability that other nets have and is normally tensioned too high so balls ping off the top. However, it's the easiest to set up. You can affix it to any size table that is up to 72" wide so you can have some fun with this by using it on smaller (or larger) tables. Heck, why even stop at using tables?
Clip-on
This style of net simply clips to your table quickly. It's an easy setup as well but with a little more stability. These types of nets will usually have height and tension adjusters but need to be played on regulation ping pong tables.
Clamp and Screw
Most commonly used in competition play, this type is the sturdiest that money can buy. It securely attaches to your table and keeps the net from sliding. This is the best net for high-volume usage and can stay in place for hours on end. Most of them have height and tension adjusters as standard and they are usually very durable. While it may take a little longer to set up and take down, it's well worth it.
Setting Up And Putting Away
Good net etiquette is the best way to maintain its integrity. By properly setting up and putting away your net, you can ensure that it will do its job.
Setting Up
Once your table is ready to go, I've always found it easier to attach the net to the posts first. If you attach the clamps first, then stretching your net over the posts could be more difficult. We don't want to put too much strain on the net if it can be avoided.
Start by attaching one side first. Don't worry about height or tension at this point. Get the other side attached to the table by sliding the clamp system onto the table from the side. This keeps the net from being pulled too much. Then you can set the net to the proper height and tension.
Take Down
Dismantling your net is just doing the setup in reverse order. Loosen the net. It should be sagging in the middle. This will give you a wide range of motion to remove the clamps without damaging the net.
Once there is no tension, you can remove the net from the posts. Now you are free to unscrew the clamps with ease and are in no danger of ripping the net.
Storage
I recommend rolling your net up separately to the posts and storing them together in the same back. You can also roll the net up around the posts on your net assembly if you don't have a storage case.
Never scrunch the net up or throw it into a jumbled box.
Height And Tension Adjusters
These may be slightly different from net to net, but they follow the same guidelines and goals.
Height Adjuster
Usually found on the bottom of the post, the height adjuster is used to set the exact height of the net. On most nets, you can adjust the height by simply turning the screw located under the post. This will either raise or lower the net ever so slightly so you can get it dialed into the perfect height.
Tension Adjuster
This is a vital feature and can be found on almost every net. Along the top, there is a string that runs through the white top line. This string spans the entire length of the net. Attached to the post, you can see where the string comes out and connects to the post. Simply pull that end until the net has reached your desired tension. You can secure the net by affixing the loose end of the string to the post. Some nets have a beaded chain and a slot where you can attach them.
Table Thickness
The standard thickness for a table tennis table is ¾". Most clamp and net systems can accommodate up to 1.5". So you have plenty of wiggle room to attach your net to the table safely.
The thicker the table, the more chance you have of instability. Try to stick to official ping pong tables. If you want to play on other tables, then I suggest a retractable net. These are made to be versatile, and you can keep your good net safe at home.
Getting The Correct Net For You
The most important part of playing on a ping pong table is to get the net set up correctly. The number one killer of a game is when the net sags and balls that make contact start to just dribble over. These shots can be the difference in a game so make sure your net is installed correctly.
Nets come in one size for the most part. They are all 6" high and 72" long. There should also be a white line running along the top of the entire length. This line should be no more than 15mm in depth.
If you want to play outdoors, then ensure you get a net that is made for such. Outdoor nets are made with a more robust material to be able to withstand mother nature's wrath. You won't have to bring it when you're done.
Caring For Your Net
To increase the longevity of your net, try to treat it well. When you dismantle it, be sure to loosen the tension first. This will keep it from stretching.
Be sure to roll the net neatly, so there are no kinks or entanglements. If you have a storage bag, then keep it there as much as you can. That will protect it from foreign objects, and you can have your net for years to come.
Conclusion
Most recreational players (and even some clubs) have to deal with saggy nets that are half-broken. These cause a lot of frustration when the ball dribbles over and you lose a point, so where possible use one of our recommended nets to ensure a fair game You can't go wrong with the JOOLA Avanti Table Tennis Net, as it has everything a player needs at a fair price.
As long as you get a quality net that fits your table and location (indoors or out), then you won't have to worry about it and can focus on your game.
David's been playing Table Tennis since he was 12, earning his first coaching license in 2012. He's played in national team & individual competitions, although he prefers the more relaxed nature of a local league match! After earning his umpiring qualification in England, David moved to Australia and started Racket Insight to share information about the sport he loves.
Blade: Stiga WRB Offensive Classic | Forehand: Calibra LT | Backhand: Xiom Musa
Playstyle: All-Round Attacker