A mini ping pong table doesn't necessarily mean miniature. Regulation tables measure 9 feet by 5 feet, so a table half that size would be considered "mini" based on the relative comparison.
For those who love the game or are just starting, a mini table could be the best option for you. They are designed to fit in small spaces and can fold up and be stored in even smaller areas.
If you have a cottage or far-away family, you can also bring this table with you. They fit in most cars and are easily disassembled.
Now that we know the benefits far outweigh the negatives let's look at the best mini ping pong tables available right now. But first, let's understand what a mini ping pong table is.
Mini Table vs. Mid-Size Table vs. Regulation Size Table
If you're reading this article, then chances are you have ruled out getting a regulation-sized ping pong table. You have determined that you don't have the space required, and that's ok; there are many other table options available to you.
Keeping in mind that you need a recommended 3 feet of space around your table, we have multiple different size options here.
A mini-table will measure anything under 72" in length. These are great for apartments and if you plan to transport it to a summer cottage or a friend's house. Mid-size tables measure between 72" and 81" on average. They provide a more sturdy base and usually a better tabletop.
Whether you get a mini or a mid-size, these tables are meant primarily for recreation play. If you're an advanced player, you will still have fun with these, but you may find them limited in their practice capabilities.
In-Depth Mini Table Tennis Table Reviews
Whenever possible, I always prefer to play on a full-size table. Years of training on a specific table size means that my radar is completely out of sync when playing on a smaller table! However, there are definitely some scenarios where a mini table tennis table is useful. They're very handy for anyone with limited space, or for help training juniors who don't yet have the power to play on a full-size table.
I only recommend tables that are the same height as a normal table because anything lower is really difficult to play on as an adult. The only exception is the ultra-small Stiga Mini, which is more for fun than any sort of Table Tennis training.
Here are my top recommended mini table tennis tables.
David's Top Pick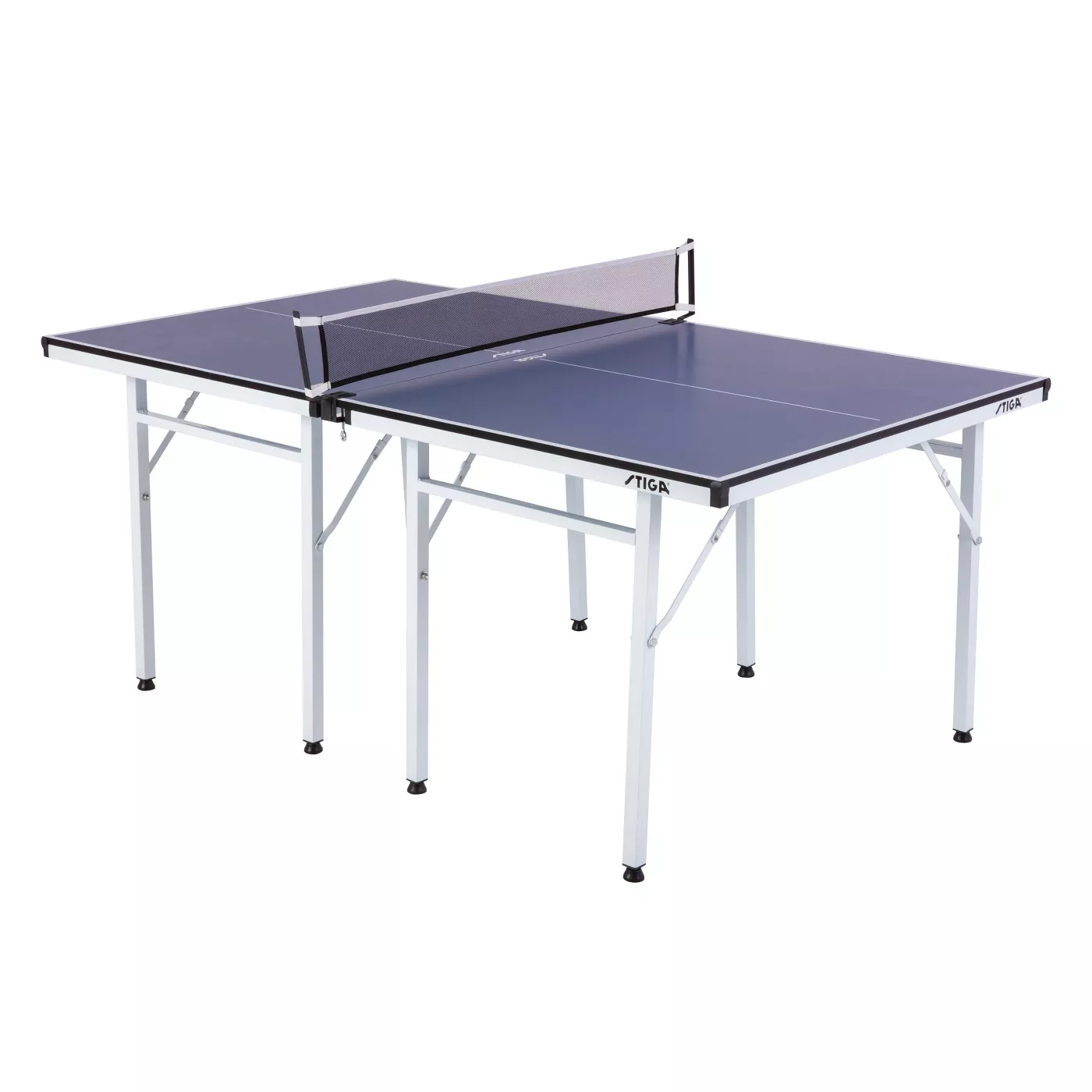 Playing Dimensions: 71 inches (L), 40.5 inches (W), 30 inches (H)
Weight: 75lbs
Material: Aluminium Frame, MDF Tabletop
Color: Dark Blue
Summary: A true all-rounder at a reasonable price, this table is perfect for practising and storing. It really feels like a slightly shrunk version of a full-size table.
It may come as no surprise that the best overall mini table comes from a leading company in the table tennis world. Stiga makes some amazing ping pong products, and this one is no different.
The most significant reason for it topping this list is its durability. Mid-size Ping pong tables are meant to be set up and taken down many times. The more you move the table and make adjustments, the more the components will wear down. Not with this table, though.
The legs are made from 1.25" square welded steel. This provides maximum stability while you're playing and even holds up against bumps during intense gameplay. They are also powder-coated for an added layer of protection against scratches.
Made For Experienced Players Who Are Short On Space
Assembly couldn't be made any easier. There are no tools required to put this table together as it's ready to be set up right out of the box. The feet are adjustable to ensure your table is level, and they also have coverings to protect your floor.
The tabletop is also evidence of excellent craftsmanship and attention to detail. Even though it's a mini table, the ball will react and bounce the same as a professional table due to the finish. It's coated with a repeat roller coat process to create a smooth, level-playing surface lined with silk screen striping and printed directly on the tabletop for a perfect finish.
It's also available in the traditional blue finish or a unique wood grain print. I'd personally stick with the blue!
Benefits
Sturdy legs
Roller coat tabletop for heightened performance
Easy to set up and takedown
Includes net and post system
Height adjusters on bottom of legs
Available in blue or wood-grain print
Can be used as two separate tables for anything other than ping pong
Drawbacks
No tension adjusters on the net
Juniors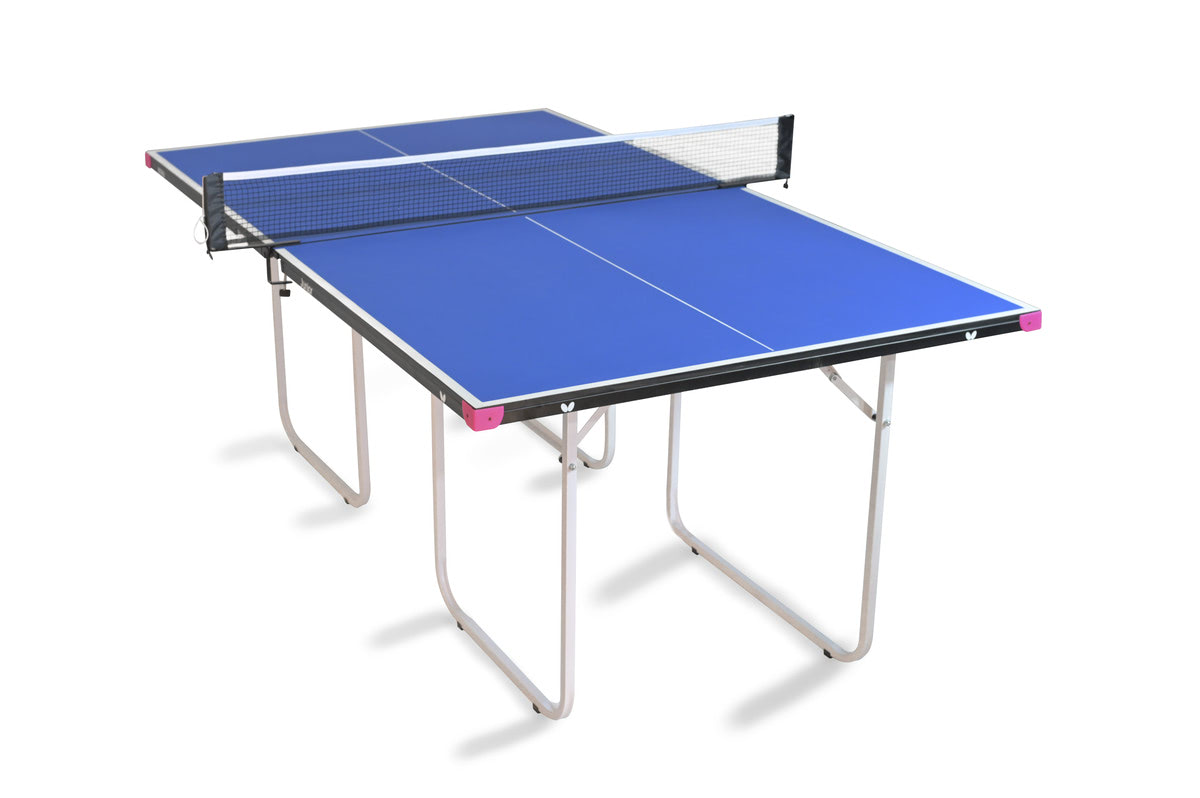 Playing Dimensions: 81 inches (L), 45 inches (W), 30 inches (H) (3/4 Size)
Weight: 70lbs
Material: Steel Frame, MDF Tabletop
Colors: Green or Blue
Summary: This table is on the large side, being exactly 3/4 of a full-sized table. This makes it perfect for beginners or juniors who are new to the sport. However, you need to double-check that you have space for it as you'll need an extra couple of feet compared to the other tables on this list.
This table might be a little out of place on this list because it is not quite "mini." It's ¾ the size of a regulation tournament table which makes it perfect for the little ones. It is much less intimidating than a full-size table, so it's ideal for introducing new players to the game.
Experienced players will appreciate the tabletop here as it's thicker than most other portable tables. At 12mm, it provides an active bounce that is predictable and lively. The table also comes with corner protectors. These pads keep you safe when the action gets heated but also protects it since you'll be moving it a lot.
Many Features That Tournament Tables Have
Ensure you have enough space to utilize this table because it's larger than mini tables and mid-size tables. You can set it up very easily as the legs fold underneath and the included net detaches in a snap.
The net is outfitted with height and tension adjusters, which is helpful on a portable table, especially if you plan to play in different places.
You can also use each of the two halves of the table for entertaining as well. I recommend using a tablecloth to protect the surface, though.
Benefits
Larger than other mid-size and mini tables
Durable and adjustable net
12mm thick tabletop
No tools required to assemble
Includes protection for each corner
Available in blue or green
Perfect for juniors or beginners
Drawbacks
Requires more space than other mini tables
Easy Moving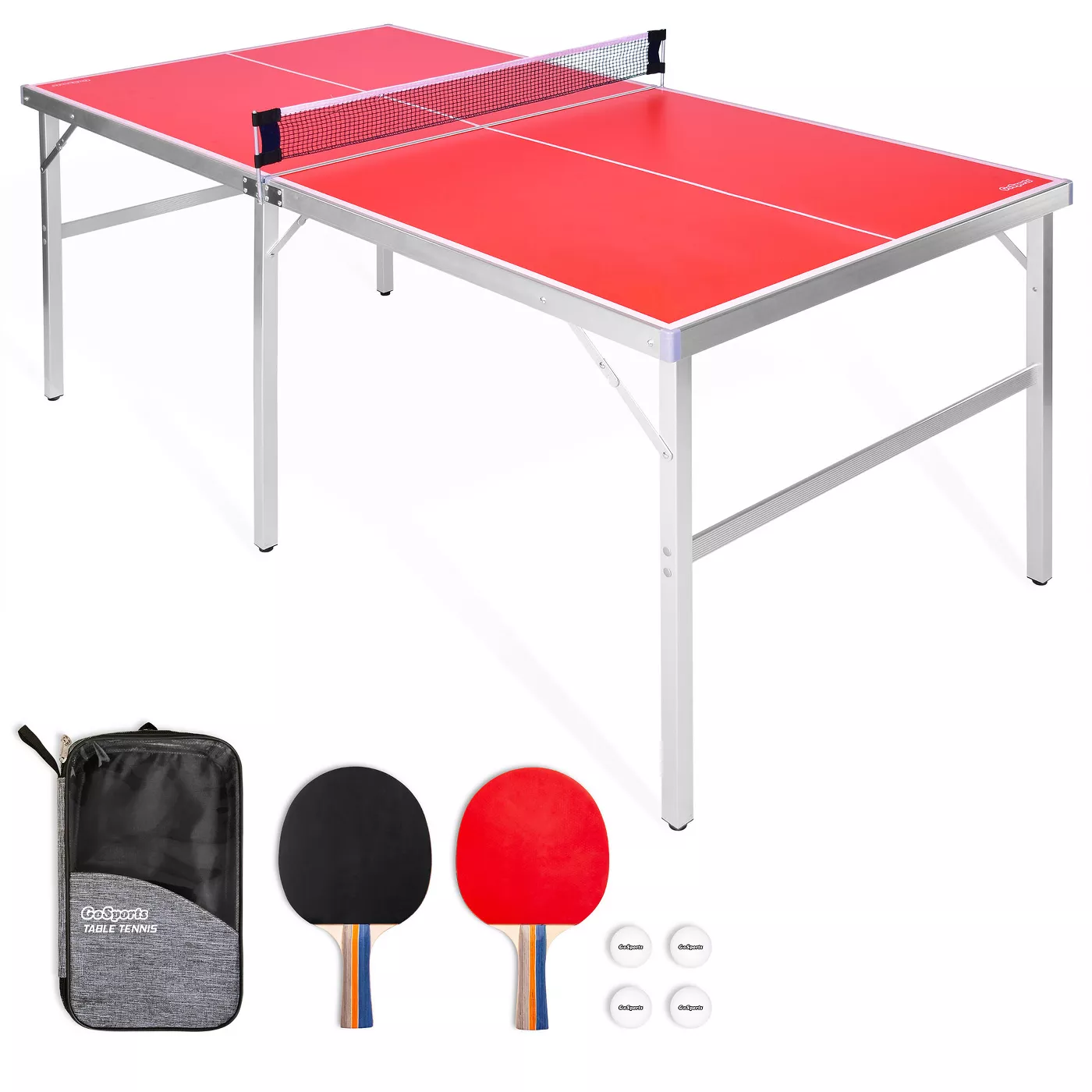 Playing Dimensions: 72 inches (L), 36 inches (W), 30 inches (H)
Weight: 36lbs
Material: Aluminium Frame, MDF Tabletop
Color: Red
Summary: A super-lightweight table, this GoSports model doesn't have the best net and I'm not a fan of the bright red table-top. However, it's easy to overlook these downsides when you consider how easy it is to move/transport this table. The paddles/balls this comes with are pretty low quality but that's not why you buy this table!
This mid-size table landed itself on my list because it's the complete package. What it lacks in durability, it makes up for in convenience.
For newer players, this table provides everything you need if you have never played before. It's one of few tables that includes both paddles and balls. They come with a handy carrying case as well, so you won't lose them if you're traveling.
Easy To Transport This Table Anywhere
Even though it's not the most robust table featured in this article, it's still made with an aluminum frame, so it does hold up well against everyday wear and tear. Just be careful when disassembling it and transporting it to avoid warping it.
The aluminum is also what makes this table extremely light, though. Anyone can set this table up, and it's easy to fit in your car. There are even carrying handles built into the sides, so one person can handle this task with no problem.
It's available in either traditional green or bright red. This can be a welcome change to the typical green and blue finishes seen on so many other tables out there. The tabletop is very smooth, and the ball-reaction is acceptable, but veteran players will notice a difference between this and thicker tables.
Benefits
Includes net, 2 paddles, and 4 balls
Ultra-lightweight for easy transport and setup
Carrying handles are built-in to the sides
Carrying case included for paddles and balls
No tools required for initial setup
Can be used indoors and outdoors
Drawbacks
Legs are made from aluminum only
No tension adjusted on the net
Quality Tabletop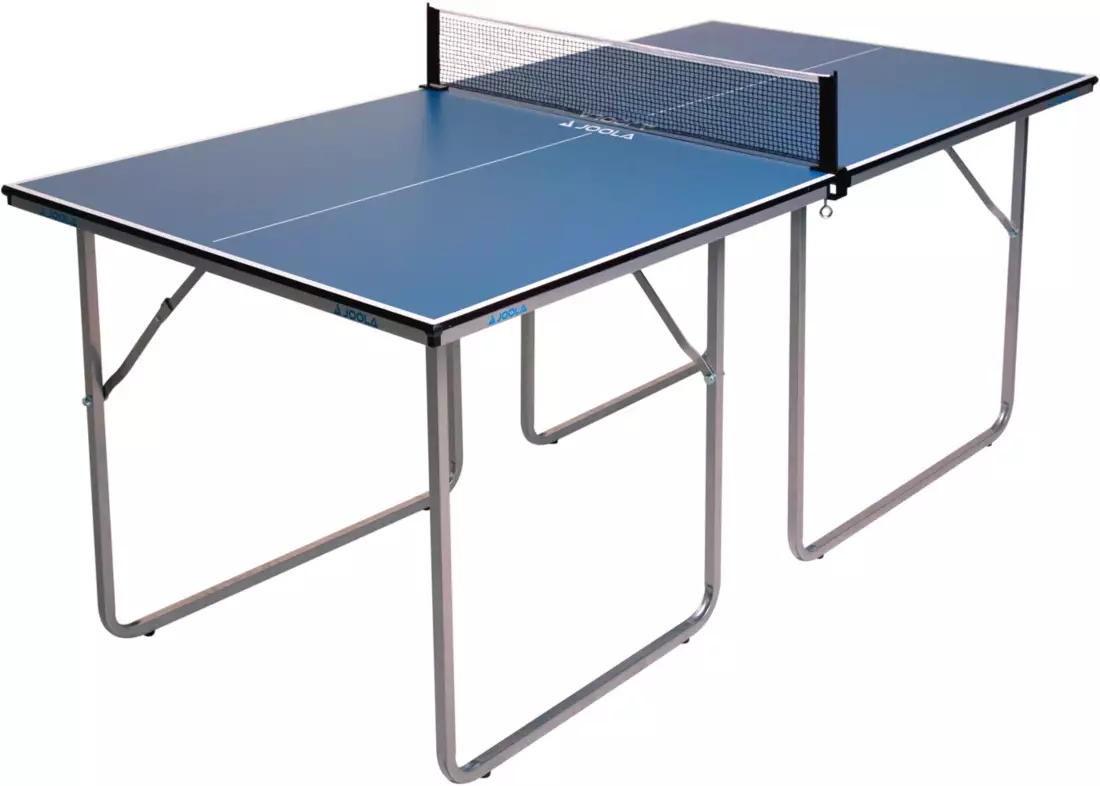 Playing Dimensions: 72 inches (L), 36 inches (W), 30 inches (H)
Weight: 62lbs
Material: Steel Frame, Wood Surface
Color: Blue
Summary: I love JOOLA equipment, having used their balls and tables for decades. This table has a really great tabletop which gives pretty close to a full-sized table experience, although it can be let down by the legs being a bit flimsy. You need to take a bit of care when putting up/down this table.
This mid-size table is made by Joola, one of the most dependable names in the table tennis universe. It has sponsored some of the most significant ping pong events globally, including the Olympics.
The biggest advantage of this table is the surface. It's one of the thickest and therefore provides excellent ball reaction. The bounce is very similar to regulation tables and has increased speed that some mini tables do not have. This will make the transition to a regulation table much more smooth.
Each half of the table is independent of itself, so that you can use them as standalone tables as well. They are perfect for card or board games or even entertaining if you have a large group and need more table seating.
The net is included and is the perfect width for this table. It attaches securely to the table using a strong clamping system. This is the same style used in regulation tables to keep the net taut and in place.
You can store this table easily and quickly since the legs fold under in one motion. It's a great table for recreational play and also a great stepping stone towards a full-size table for the more serious player in your household.
Benefits
Made with high-quality materials
Net uses a secure clamping system
Each half can be used independently for other entertaining opportunities
Legs fold under for easy storage
Quality surface for the best ball reaction during gameplay
Also available in unique "sport" design
Drawbacks
No paddles or balls included
Not useful for outdoor use
Small Spaces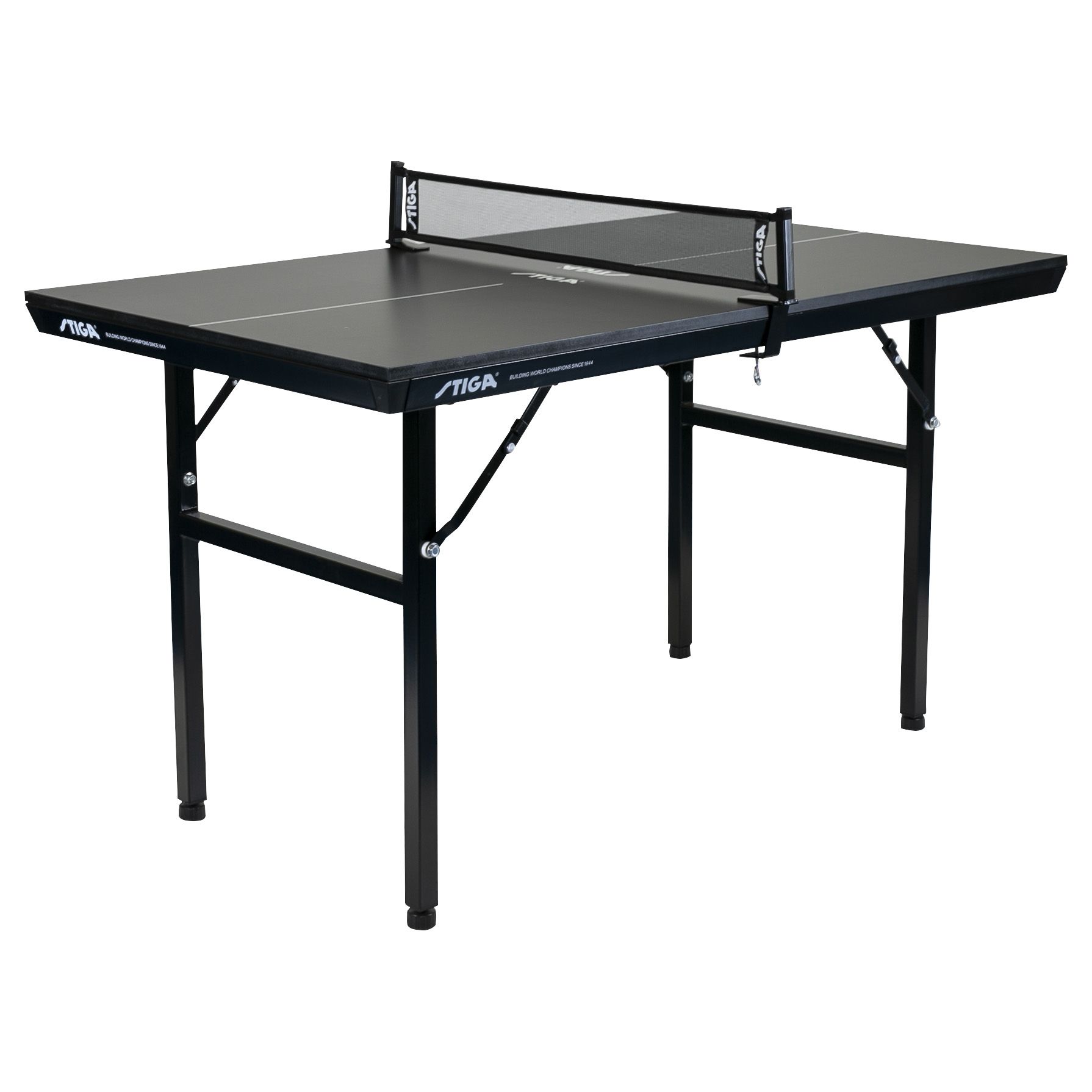 Playing Dimensions: 50 inches (L), 28 inches (W), 30 inches (H)
Material: Fibreboard Tabletop
Color: Black
Summary: You can't go wrong with a STIGA table and this mini version is extremely well made. I love the stylish black finish, although it's too small to play any real table tennis. Great for messing around and playing casually when you don't have much space.
This is the smallest table featured on this list as it is best suited for recreational players who just want to have fun. Its sharp looks and ease of use are just a couple of the advantages here, but the biggest advantage is its relatively minuscule size.
The length is only 50" when fully set up, so you need only the space of an average living room to enjoy this table. Due to its size, the ball won't be traveling as fast as it would on larger tables, and therefore you will need less space around the table.
Probably The Best Looking Mini Table Tennis Table Out There
It comes in a stylish black design that gives it a real edge and cool look. The tasteful placement of the "Stiga" logo on the net also adds an element of professionalism.
The playing surface itself is 12mm thick, which is much thinner than regulation tables (25mm) but very common amongst mini-tables and conversion tops. This mimics a regulation table very well. However, those seeking true game action should look for something a little thicker and bigger.
The built-in hinges on the table legs make it easy to fold up and store. The hinges also lock in place very well to keep the table sturdy during intense games. At the bottom of the legs are screw-in feet that you can use to level the table. So no matter where you choose to play, this table can adapt to your location.
Benefits
Hinged legs
Small size is perfect for apartments and other small spaces
Includes Stiga branded net
12mm tabletop thickness for faster ball reaction
Drawbacks
Not suitable for advanced players
No net adjusters
Does not include paddles or balls
Buyer's Guide
Best Places To Use A Mini Table Tennis Table
Ping pong doesn't have to be played in a gymnasium or your local rec center. With these tables, your options for playing locations increase dramatically. Due to how easy they are to set up and takedown, you can use them almost anywhere temporarily.
Apartment
Push your couch back and move your coffee table into the kitchen, and now you have enough room to fit at least the Stiga Mini Table Black Edition. You could also move your kitchen table into the living room if your kitchen allows for more space.
One of my friends even had a small apartment balcony and played out there!
Basement
Not all basements are created equal, but the basement is a favorite place to play if you have some space around your belongings.
Play Room Or Spare Bedroom
In a perfect world, these are great places to play as they provide the most open space around your table. There would also be no rush to dismantle and store it compared to if you're playing in the kitchen.
Table Size
Choosing the right table size for a mini or mid-size table is very important as opposed to buying a regulation table. Mini and mid-size tables are all different sizes, so you must ensure your location will accommodate whichever table you have your eye on.
Mini Tables
These are tables that measure under 72" in length. While all the tables listed here are 30" high off the ground, not all of them are. So ensure you are getting the height and length you want to fit the space you have chosen.
Mid-Size Tables
Mid-size tables usually measure 72" long or even longer. A regulation table is 108", so even the 72" tables are considerably smaller than tournament tables. They are also wider as well at 36". Hence, they keep the same ratios as a regulation-sized table.
Portability and Storage
These tables have been designed and manufactured to store very well. They all fold in half and reduce down to a very flat size. This makes it perfect for storing under a bed or behind a closet. With tables of this size, it's also effortless to transport them.
Take these tables to the cottage for a weekend or a friend's house as they will easily fit in most sized cars. If you do plan to travel with your mini table, then take note of the overall weight. They can vary quite widely due to the construction and materials used.
Durability
Any mini table or mid-size table will sacrifice some durability compared to its full-size counterparts. This is a necessary evil to make the table easier to store and move about. However, that doesn't mean they are made of stained glass either though.
Aluminum is the most popular material for the legs as it provides strength without adding a lot of weight. Some are made with steel, such as the STIGA Space Saver Table Tennis Table. This provides the most durability if your matches are more intense.
Take good care of your net as well. The nets included with mini tables are a far cry from those used on regulation tables. Most don't have tension or height adjusters, so it will be hard to rejuvenate them if something happens to them over time. The posts are usually made of plastic as well, so be sure to treat them with care.
Conclusion
I love the idea of mini tables as it allows more players access to the game. It's a great way to enjoy this sport and improve your skills, so you're ready to compete on larger and faster tables.
If you plan to progress, then I recommend the STIGA Space Saver Table Tennis Table (Amazon link). Its tabletop is the most similar to regulation tables, and the legs are as sturdy as they come for mini-tables.
If you plan on playing with your family for the sole purpose of enjoyment, then any of these tables will do. Just ensure you're getting the right size for the space you have available.
Happy ping-ponging everyone.
David's been playing Table Tennis since he was 12, earning his first coaching license in 2012. He's played in national team & individual competitions, although he prefers the more relaxed nature of a local league match! After earning his umpiring qualification in England, David moved to Australia and started Racket Insight to share information about the sport he loves.
Blade: Stiga WRB Offensive Classic | Forehand: Calibra LT | Backhand: Xiom Musa
Playstyle: All-Round Attacker