I absolutely love playing ping pong at home, but I also recognise that it requires a lot of space to play in. Anyone who has played before knows that wild games can take you pretty far away from the table chasing that little white ball around.
It's recommended to have at least 6ft of clearance all the way around a ping pong table. Most of us don't have that kind of room to dedicate purely to a table tennis table.
However, with a conversion top, you can turn any room into a temporary table tennis stadium.
Table Tennis conversion tops all unfold in some manner so you can turn a dining room table into a ping pong battleground. Just make sure you clear the dishes first.
There are even varying categories of table tennis conversion tops, with most tops aimed at the casual player. Suppose you're already an avid player, though; just skip right to the Martin Kilpatrick Conversion top. It's the closest to the real thing, and it looks stunning.
Benefits of a Conversion Top
Besides the obvious benefit of having a ping pong table where you usually shouldn't, these conversion tops offer a few more benefits beyond what meets the eye:
They are lightweight and portable, making it easy to play on any flat surface.
Most tops come with a net & post system.
They provide protection for the support table.
They fold down flat, so can be stored against the wall or in a thin cubby hole.

Setup and takedown is quick

and painless.
Basically, if you just want to play the occasional game of ping pong without having to deal with a full table, then a conversion top is perfect.
Comparison of the Best Conversion Tops
Image
Product
Features
Price

Best Overall

Full-Sized Table (2 Parts)
19mm Playing Surface
3 Year Warranty

Check Local Seller PriceCheck Amazon Price

Full-Sized Table (2 Parts)
15mm Playing Surface
Mid-Priced Offering

Check Local Seller PriceCheck Amazon Price

Budget Pick

Full-Sized Table (4 Parts)
12mm Playing Surface
Great Value Conversion Top

Check Local Seller PriceCheck Amazon Price

Full-Sized Table (2 Parts)
15mm Playing Surface
Similar in Price & Quality to the JOOLA Regulation Top.

Check Local Seller PriceCheck Amazon Price

Great For Kids

Midi-Sized Table (2 Parts).
Exceptionally Lightweight.
Chess & Backgammon Board on Back.

Check Local Seller PriceCheck Amazon Price
In-Depth Conversion Top Reviews
Choosing the right conversion top really depends on how you want to use it! There are plenty of options out there, varying in quality and price that serve different purposes.
If you're just wanting a casual surface to play on every now and again, you can opt for one of the cheaper surfaces and they'll work perfectly for you. If you want to play more often, I would advise opting for one of the more expensive options. It's true that you get what you pay for.
The shame for me currently is that my dining room table is too big for a conversion top these days, which is a concern I suggest you check before ordering. Your table needs to be shorter than 9 feet or it'll stick out at either end of the conversion top.
Anyway, let's dive into my recommended ping pong conversion tops.
Professional Standard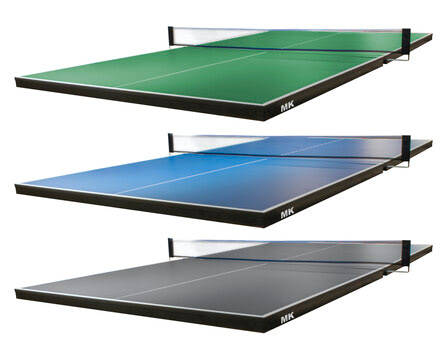 Playing Surface Size: 9 feet (L), 5 feet (W)
Playing Surface Thickness: 19mm
Material: Metal Base & Fibreboard Tabletop
Weight: 150lbs
Colors: Blue, Green or Grey.
Warranty: 3 Years
Summary: As good as you're going to get. It's definitely on the expensive end but it's definitely a worthy investment for anyone who wants to start playing Table Tennis more seriously at home. I'd personally opt for the Blue, but it's great to have different color options.
I had to list this conversion top as the best overall because it's as close to playing on a genuine table as you can get. I loved how the ball reacted off this tabletop as there was very little difference compared to my stand-alone ping pong table.
The reason for this outstanding performance is the thickness of the table. It measures in at 19mm, which is as thick as they come when dealing with conversion tops. All tournament-approved tables are 25mm. Although thinner, it's close enough that even experienced players won't notice the difference.
A professional table disguised as a recreational one
The attention to detail can also be seen on the rails. This conversion top includes 1.5" metal railings that go all around the outside of the table. This is to help prevent your table from bending around the corners. Having an uneven table can be very frustrating to play on if you're working on your game.
This conversion top is also available in three different colors. They're all traditional table tennis colors, but you can choose which one will suit your game room decor.
This table also includes large protective pads. Other conversion tops include protection pads but are not as big as these. They're perfect for preserving the finish on your billiard table and they keep the ping pong table securely in place at all times.
It's also available in the traditional blue finish or a unique wood grain print. I'd personally stick with the blue!
Benefits
Sturdy legs
Thick table at 19mm
1.5" rails support the frame and shape
Available in three different color options
Includes large protective pads
Comes with a 3-year warranty
Dovetail connection system for easy setup and takedown
Drawbacks
It's pretty heavy (150 lbs approx)
Quality doesn't come cheaply.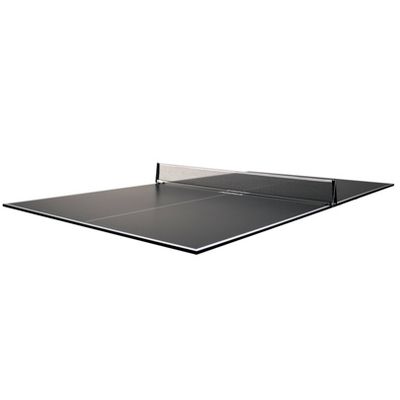 Playing Surface Size: 9 feet (L), 5 feet (W)
Playing Surface Thickness: 15mm
Material: Steel Frame & Particle Board Top
Weight: 110lbs
Colors: Black
Warranty: None
Summary: JOOLA are a big brand in Table Tennis, known for quality equipment. If you can't quite justify paying for the Martin Kilpatrick top, then this is definitely your next best option. It plays perfectly well for any amateur or beginner players.
For a little extra padding to protect your dining room table, the JOOLA Regulation Table Tennis Conversion Top provides the best protection.
This is courtesy of 10 EVA foam pads positioned under the ping pong table at all the key pressure points. This serves a dual purpose because you are protecting a valuable piece of furniture and securing the ping pong table. The foam pads help it stay put even during the heated moments of your match.
A versatile table that can be used on many different surfaces
It's suitable for any surface that is at least 7' x 3'. The netting system utilizes clamps that secure directly to the ping pong table, so there's no contact with whatever surface you use. It's regulation size and a respectable 15mm thick, so the ball reacts very similarly to professional tables.
Another professional feature of this table is the 1.5" steel tube apron that lines the perimeter. This apron is a huge advantage to have to keep your table from sagging in the corners. It also helps against accidental bumps into the table, which are inevitable.
Even with all these professional features, it's surprisingly easy to set up. The two halves clamp together quickly, and with the net clamps and tension adjuster, you can be playing in under 5 minutes right out of the box.
Benefits
Extra EVO foam to protect your supporting table
Clamp system for a sturdy and taut net
Regulation size and 15mm thickness does the job.
1.5" steel tube apron to keep it level
Quick assembly
Drawbacks
Only available in one color.
Best Budget Option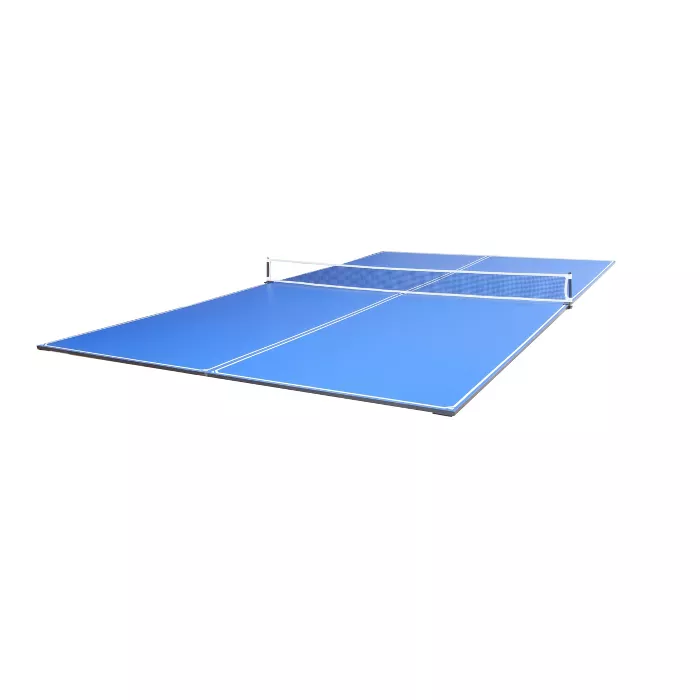 Playing Surface Size: 9 feet (L), 5 feet (W)
Playing Surface Thickness: 12mm
Material: Wood Frame & Particle Board Top
Weight: 80lbs
Colors: Blue
Warranty: None
Summary: This table is a great budget option, with the added benefit of folding down into quarters so it's incredibly easy to store. The 12mm top provides some uneven behaviour for more advanced players, however, it's hard to notice this in recreational play. Perfect for a rec room to play some ping pong on a Sunday afternoon with a few beers.
For recreational players, I recommend the Joola Tetra as the best option. If you like ping pong and enjoy other games, you can pick up this kit at a justifiable price. While a few options have been omitted compared to other tables, the spirit of the game lives on in this conversion tabletop.
A great feature of this table is the fact that you can fold it twice. Most tables simply fold in half, which means to store it, you still need half of a ping pong table's worth of space. This table folds one more time cutting its size down to a quarter of what it is when it's set up. There is an extra set of hinges lengthwise down the table to make this easy for anyone to do.
Why Is This Conversion Table So Affordable?
To be the most affordable, the designers had to leave out a few details that I would feel guilty not telling you about. First is the table thickness; it's 12mm thick, which is OK for casual play. Advanced players will notice a difference here.
Another thing to note is the protective padding; it's limited. Instead of fastening the protective pads on the corners, I recommend placing them exactly where your ping pong table makes contact with your supporting table. This will provide the best traction as well to keep the table in place.
The playing surface is regulation size; so making the switch to a club or tournament table will be an easy transition.
Benefits
Folds twice for easy and compact storage
Includes a custom net to fit the 12mm tabletop
Lightweight compared to other conversion tables
Official tournament size when set up (9'x5')
Drawbacks
No tension adjusters on the net
Table thickness is only 12mm which can produce a slightly irregular bounce.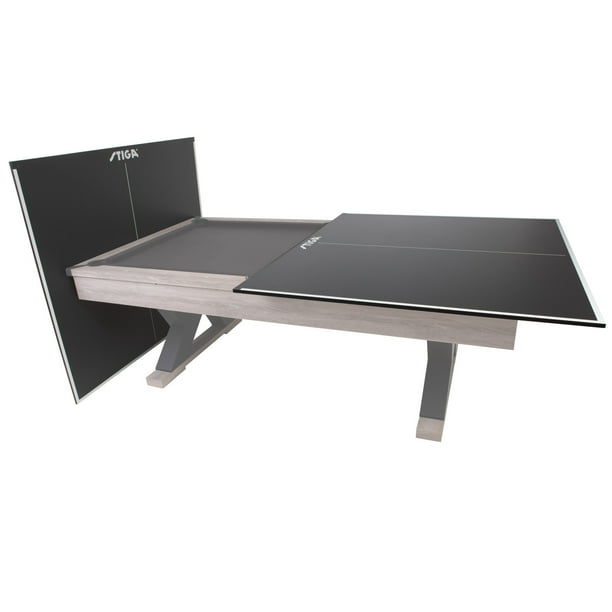 Playing Surface Size: 9 feet (L), 5 feet (W)
Playing Surface Thickness: 15mm
Weight: 110lbs
Colors: Gray
Warranty: None
Summary: I had to keep this on the list because it's very similar in style and quality to the JOOLA Regulation conversion top. See which one you can get cheaper (taking into account delivery costs) as you can't really go wrong with either conversion top.
If some days you play like a pro and others you feel like a novice player, you're not alone. You don't have to label yourself as one type of player or another, and you don't have to settle for a table that doesn't fully satisfy your needs. The Stiga Premium Table Tennis Conversion top combines novice features with some advanced aspects.
Since there may be times you don't play for a while, this table can fold up and store nicely so your dining table can do what it's made for. Like the Joola Tetra, it comes in a 4-piece design, so it folds twice, cutting the size down to a quarter of its fully assembled size. This opens up a lot of options for storage.
It only weighs 90lbs. as well, which is one of the lighter tables. Fitting this in your car or SUV is very easy due to its weight and size. It's a nice bonus to bring your ping pong table up to the cabin or to visit family.
Here's Some Of The Professional Features
While its weight and portability are nice, it's primarily due to the fact that this table is only 12mm thick. Avid players will tell you that this is not ideal for performance. This one is coated with a special roller coat paint to counter that and attract more experienced players to improve playability and ball reaction.
It also adds a layer of protection to the table, which will help prevent any knicks or scratches for when the action gets intense. The play lines are created from silk screens, so they are bright and last a long time.
Benefits
Four-hinge folding system
Very light at 90lbs.
Coated with repeat roller paint job
Silk screen play lines
Regulation size 9'x5'
Includes net system and EVA pads to protect support table
Drawbacks
Only 12mm thick
No tension adjusters on the net
No apron
Perfect For Youngsters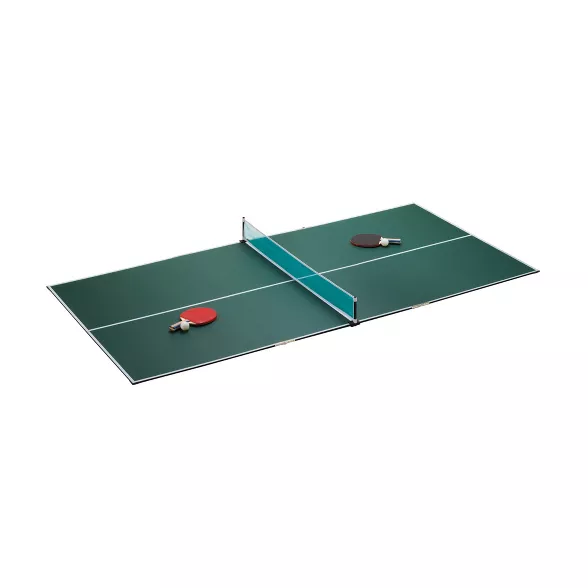 Playing Surface Size: 7 feet (L), 3.5 feet (W)
Weight: 28lbs
Material: MDF
Color: Green
Warranty: None
Summary: To be clear, this is definitely not the best table tennis conversion top you can buy. It's pretty cheap and sized like a midi-table. However, it serves a great purpose as a conversion top for kids. Especially thanks to its super light weight and the chess & backgammon boards printed on the back. That makes this table pretty good value.
For the younger players in your house, I recommend the Viper by GLD. It's a great way to introduce kids to the game since it's not as big as the other tables. You can set this up on something a bit lower, like a coffee table, so kids can have easier access to it and build confidence.
The table itself is engineered to be more lightweight yet sturdy enough to provide great action on the ball. Even though it's smaller, it's still made to be used with real ping pong balls and bats.
The Portability Means You Can Bring This Anywhere
It weighs only 28 lbs., so almost anyone can carry it, and it even comes with its own travel bag with a shoulder strap. There are pockets for all your accessories as well.
In addition to ping pong, this table comes with some other games to keep your child's attention even longer. On the underside of the table, there are game boards for chess, checkers, and backgammon. This is nice to have for when they need a break from table tennis.
Included in this set are pieces for chess, checkers, and backgammon. There are two paddles, two balls, and a net system for ping pong. And it all fits neatly into the carrying case.
Benefits
Perfect for kids
Smaller than regular conversion tables
Includes other game boards on the underside
Comes with paddles, balls, and other game pieces
It all fits in the included travel bag
Drawbacks
Not for serious players due to the surface quality.
Very small clamps on the net that are quite fiddly.
Ping Pong Conversion Top Buying Guide
To get the most out of a ping pong conversion top, it's best to do a little planning first.
Where will you play?
Do you have a table thats not too big or small?
Where will you store the conversion top?
How seriously do you take your table tennis?
These are all great questions. I put together a little guide below to help answer them for you.
Where Can I Setup My Conversion Table?
Most will advertise that these can be set up on pool tables. This is common because a pool table is large enough and typically has some space all the way around it. However, it's not the only surface that can be used.
Your dining room table is also the perfect place to play. Remove all the chairs and ensure there is nothing breakable nearby, and as long as your dining table is roughly 7' x 3', you'll have plenty of stability to host games.
Assembling Your Conversion Table
In all cases, this should take less than 5 minutes. Secure the two halves of the table correctly and ensure that it's placed in the middle of your support table.
Attach the net, and you're ready to go.
When you finish playing, apply the same process but in reverse. It should take no longer to takedown as it did to set up. Just be careful when storing it so that you don't scratch the surface on anything.
Proper Padding Underneath
Having protective padding is essential if you want to keep your supporting table untouched. All tables have padding, but choose a table with a bit more protection if you plan to play on something valuable.
EVA foam pads are the best you can get. Not all tables come with them, and even if they do, they may only have four.
Identify the pressure points between your conversion table and your support table. Make sure you apply the padding to these points specifically and not just at the corners of each table.
Playing Surface Thickness
In a nutshell, the thicker the table, the better. But with great thickness comes great weight. So if you plan to move your conversion table a lot, then choose a mid-range thickness.
The standard thickness on a stationary, professional table is 25mm. The thickest you will find in a conversion top is 19mm seen in the Martin Kilpatrick table. For more portability and to reduce weight, some tables are as thin as 5mm.
The difference in thickness WILL affect how the ball reacts and how fast your games will be. The thicker the table, the more active the ball will be.
Conversion Table Sizes
When set up, all but the Viper by GLD are regulation size of 9' x 5'. These are the exact dimensions of professional ping pong tables. So in the future, if you switch to a thicker and more advanced table, that is one aspect that won't change for you.
Conversion tables don't stay at that size, though. They can be folded to cut their size in half. They can easily be slid under a bed or stored in the back of a closet in this shape.
Some tables can fold once more, taking their size down to a quarter of their fully assembled size. These tables are great for travelling with. They can fit into a car and be taken anywhere for a game or two at this size.
Conclusion
A conversion top ping pong table is an excellent compromise to getting a tournament-style table. You'll still get to enjoy the game you love and can play it all the time.
The Martin Kilpatrick conversion table is an awe-inspiring example of how popular this ping pong style has become. It's an actual ping pong table that you can put away when not in use. It's heavier than the others, but its performance is on par with most stand-alone tables.
David's been playing Table Tennis since he was 12, earning his first coaching license in 2012. He's played in national team & individual competitions, although he prefers the more relaxed nature of a local league match! After earning his umpiring qualification in England, David moved to Australia and started Racket Insight to share information about the sport he loves.
Blade: Stiga WRB Offensive Classic | Forehand: Calibra LT | Backhand: Xiom Musa
Playstyle: All-Round Attacker