Killerspin's JET range spans from the ultra-basic 100 through to the advanced 800 racket. The JET200 sits at the lower end of the range, making it an affordable option aimed at casual players or beginners.
My favorite premade racket is this racket's older brother, the Killerspin JET400. However, I wanted to find out if you could get the same performance with the JET400's cheaper, younger sibling.
It's probably not a huge surprise (spoiler alert!) that you get what you pay for. But, is the trade-off between performance and price worth it?
KILLERSPIN JET200 REVIEW SUMMARY
You get what you pay for with the Killerspin JET200. It's a solid racket for casual table tennis players, which feels highly controlled and gives you confidence to get the ball back on the table.

However, it suffers with a lack of speed and spin when playing more advanced shots like loops and chops.

Add that to the fact it's not ITTF approved, this racket isn't suitable for improvers who are aiming to play in official matches.

Perfect for: Casual garage players with 0-3 years' experience of playing.
Benefits
Incredibly controlled feeling on shots.
Budget-friendly options for a home setup.
Great for flat-hitting.
Drawbacks
Unable to generate much spin on loops or serves.
Requires a lot of power when away from the table.
Vibrational feeling when hitting shots.
Recommended Playstyles
We recommend the Killerspin JET200 for casual social players without a defined playing style….
Design of the Killerspin JET200
Killerspin easily win the award for best delivery packaging. My racket arrived in a sturdy cardboard box that contains a whiteboard marker.
Whilst a little unusual, the marker can be used within the case to mark down scores, notes, notable achievements, and anything else you might want to write down at a practise session.
Personally, I think this is a gimmick and would prefer a fabric protective case (we ranked the best racket cases!) but it does make Killerspin's rackets great as presents.
Opening up the case unveils the JET200 racket, which comes with bright blue rubbers. It's an unusual choice, but it indicates the JET200 is aimed at casual players.
These rubbers aren't ITTF Approved, which means the JET200 can't be used in official tournaments. I doubt there would be a problem at a home tournament between friends.
The flared handle and 5-ply wooden blade are pretty standard for rackets that are designed with beginners in mind. It immediately feels comfortable in the hand, although perhaps a little too light for my liking.
Killerspin have chosen to use two 'Jet Basic' rubbers at 1.8mm sponge thickness. That's quite a thin rubber, and suggests the JET200 will feel like quite a hard racket. Forgive my terrible photography skills!
Let's see how it performed when we put it through its paces.
Specifications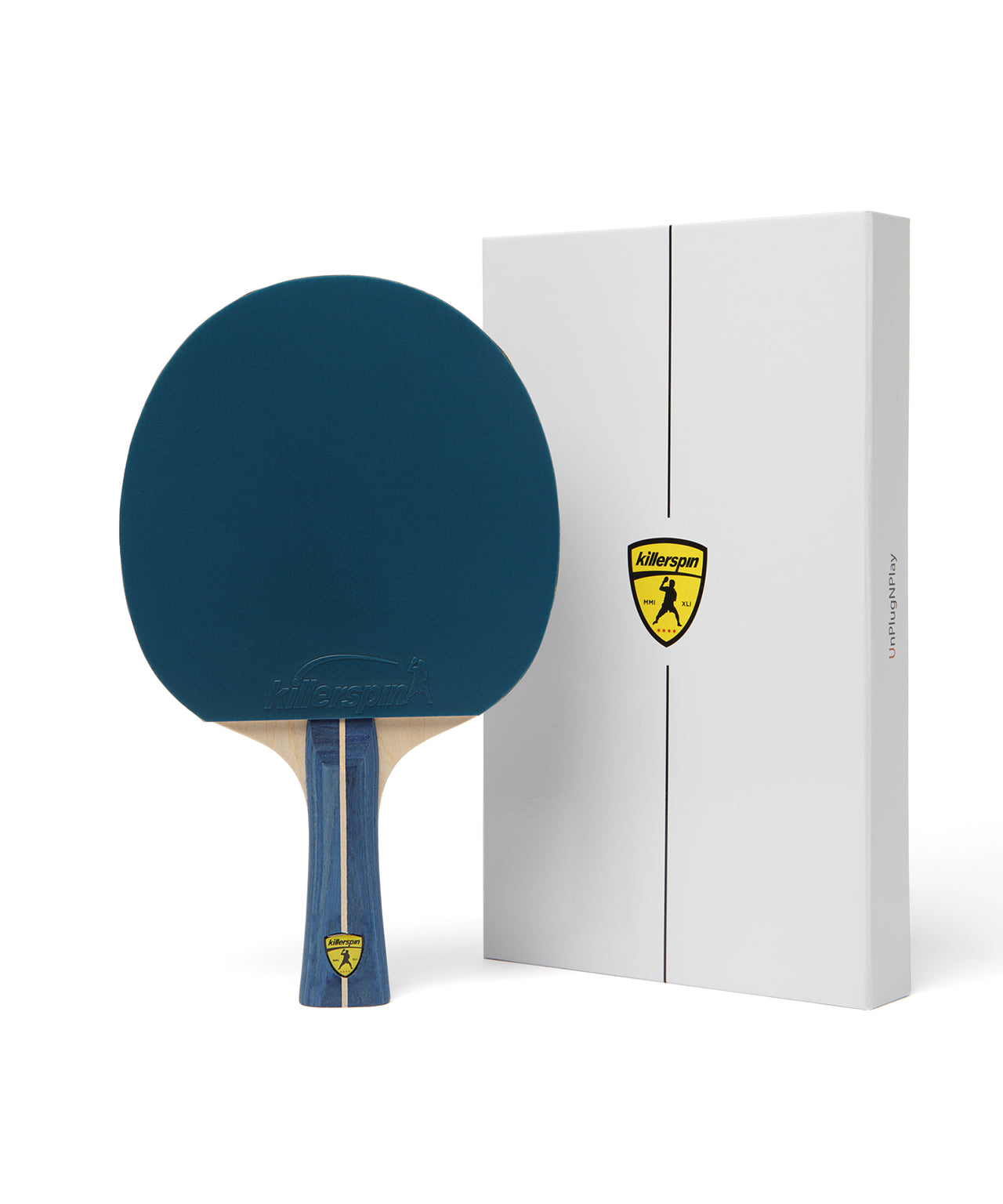 Weight: 177g
Speed: Medium
Spin: Medium
Control: Medium-High
Handle: Flared
Blade:

5-ply wood

ITTF Approved: No
Sponge Thickness:

1.8mm
Summary: An improvement on cheap rackets but doesn't match up to its older sibling, the Killerspin JET400.
Playtesting the Killerspin JET200
After about 3 shots with the JET200, I stopped the rally and looked towards the racket in a confused way. The feeling I experienced on contact with the ball was strange!
There's a huge amount of vibrational feedback coming from the blade down into your hands. It's a bit unnerving at first.
It took a few more minutes to get used to the feeling, but it's something I never enjoyed when playing with the JET200. It contributes to an overall feeling of 'cheapness'.
Serving & Returning
I rated the JET200 highly for its serve and receive capabilities, but primarily down to the amount of control you get on the ball.
When serving, I always felt confident the ball was going to go exactly where I intended. Short, long, left, right, it didn't matter. The JET200 inspires confidence so you can try different serve placements.
However, your serves are unlikely to trouble any intermediate and above players with the limited spin generated by those 'Jet Basic' rubbers.
Control is also critical for serve returns. With the thin 1.8mm rubbers and limited gripiness, I found it very easy to return any serve that was coming my way.
There wasn't a huge amount of quality on my returns unless I played a more aggressive shot, but critically they were all going on the table. At a beginners level, this is easily the most important factor to winning matches.
Driving and Looping
This racket is surprisingly exceptional at playing a forehand or backhand drive against flat drives from your opponent. I was able to consistently play drives with quality in practice, and use them to my advantage in matchplay.
Again, I put that down to the rubbers delivering speed that matches the effort you put into your shot. It's a very linear experience, although that does mean you won't be able to generate top-end speed like some other rackets can.
Unfortunately, this is where the JET200 starts falling apart. Looping is very difficult for two main reasons.
Firstly, the lack of speed provided by the rubber means you have to hit the ball hard when you're a few steps away from the table. The lack of speed means it's very easy to dump the ball into the net.
Secondly, the lack of spin means any loops you do get back on the table aren't providing much trouble for your opponent. Also, if there's any significant backspin on the inbound ball it's hard to generate enough topspin to pull the ball over the net.
To produce a strong attacking shot, you need to be in the right position and have good technique. As a result, I found that this racket forces you to rely on pushes and lobs, putting you on the back foot in most rallies.
Blocking & Chopping
Defensively, this is a distinctly average racket.
Thanks to the high control aspect, it's easy to play defensive shots like blocks and chops. I felt comfortable getting the ball back on the table consistently.
However, it's very difficult to play these shots with any real quality to trouble your opponent. It was almost impossible to generate significant spin on a chop, so my opponent could just keep looping attacking shots at me until I made a mistake.
Blocks come off the racket slowly, unless you play an active block (which is basically a drive!) which isn't always possible.
It's definitely possible to play defensively with the JET200, but I'd worry that it would ingrain bad technique if you're trying to improve.
Overall impressions of the Killerspin JET200 Racket
This is a cheap racket within Killerspin's JET lineup, and the performance demonstrates this clearly.
You'll find it's a very controlled racket, suitable for social or casual players who just want to get the ball back on the table. Once you get past the vibrational feeling on contact with the ball, it's a good, fun racket to play with.
However, if you're an improver who's getting coaching or wanting to play matches, there are too many shortcomings to make this a suitable racket. I would highly recommend paying the money to upgrade to Killerspin's JET400 instead.
The light blue rubbers are a novelty, but not a massively interesting novelty (unlike the Airblades 3 white rubbers!).
Alternatives to buying a Killerspin JET200
Killerspin JET400
My favorite beginners premade racket, this is a significant upgrade on the JET200 with a small jump in price.
AirBlades 3
The most similar racket, foregoing performance for aesthetics and novelty appeal. This is a more fun racket.
Palio Expert 3.0
Not able to buy Killerspin rackets? Definitely check out the Palio range, with the Expert my preferred option for beginner to intermediate players.
David's been playing Table Tennis since he was 12, earning his first coaching license in 2012. He's played in national team & individual competitions, although he prefers the more relaxed nature of a local league match! After earning his umpiring qualification in England, David moved to Australia and started Racket Insight to share information about the sport he loves.
Blade: Stiga WRB Offensive Classic | Forehand: Calibra LT | Backhand: Xiom Musa
Playstyle: All-Round Attacker